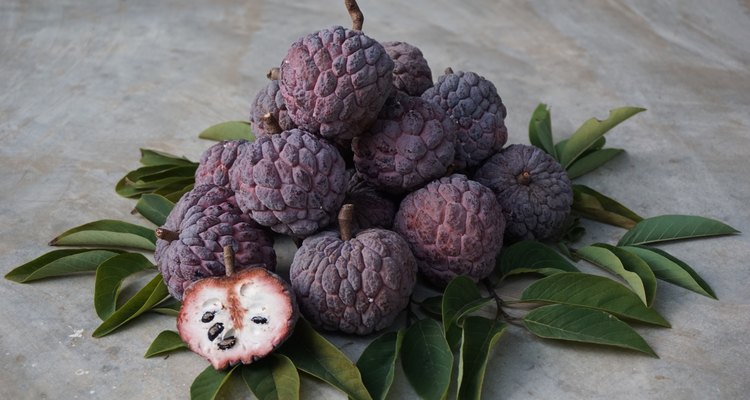 Tanantornanutra/iStock/Getty Images
The annona squamosa is a semi-evergreen shrub also known as sugar apple or sweetsop. The fruit of the sweetsop resembles a pine cone but is sweet, with a taste somewhat similar to custard. Sweetsop is used in a number of industries. According to Purdue's University Agriculture Division, oil obtained from the seed kernels of sugar apple can be used for cooking, as well as in the perfume industry. The seeds themselves are highly toxic and must undergo a special treatment before they become edible.
HIgh in Vitamin C
A medium-size sweetsop fruit weighs about 5.5 ounces and contains 56.3 milligrams of vitamin C -- this is roughly 75 percent of the daily recommendation of 75 milligrams for women and 62 percent of the recommended daily intake of 90 milligrams for men. Vitamin C helps maintain healthy bones and muscles, as well as helps blood vessels stay supple and strong. Although the value of vitamin C to fight colds remains unconfirmed, the July 2012 issue of "American Family Physician" points out that vitamin C does seem to shorten the duration of a cold in adults and children.
Rich in Fiber
Sweetsop is rich in fiber and carbohydrates. One 5.5-ounce serving, or roughly 3-inch fruit, provides you with 6.8 grams of fiber, which is about 18 percent of the daily recommendation for an adult. With 36.6 grams of carbohydrates per piece of fruit, sweetsop also is an excellent source of energy. In comparison, a medium-size apple, or about 6.4 ounces has only 25 grams of carbs and, even with the skin, just 4.4 grams of fiber. Fiber is an essential nutrient that helps lower cholesterol, normalizes bowel movements and helps control blood sugar levels.
Antioxidant Properties
In a 2011 study published in the "Journal of Pharmacy Research," researchers studied annona squamosal to see if it contains any compounds that could be useful for medical treatments or nutritional support. Results from test-tube research shows that sweetsop has free radical scavenging activity, making it an effective antioxidant.
Anecdotal Use
Sweetsop is used extensively in India and tropical American countries to treat a number of conditions. Most of its uses have been passed down through generations, though studies are needed to confirm whether sweetsop really works in treating these conditions. For example, sweetsop is used in India to treat wounds and ulcers, as well as an anti-diarrheal tonic. In tropical American countries, sweetsop has different medicinal uses, such as being a treatment for colds, digestive problems and high fever.
References
Writer Bio
Tammy Dray has been writing since 1996. She specializes in health, wellness and travel topics and has credits in various publications including Woman's Day, Marie Claire, Adirondack Life and Self. She is also a seasoned independent traveler and a certified personal trainer and nutrition consultant. Dray is pursuing a criminal justice degree at Penn Foster College.
Photo Credits
Tanantornanutra/iStock/Getty Images