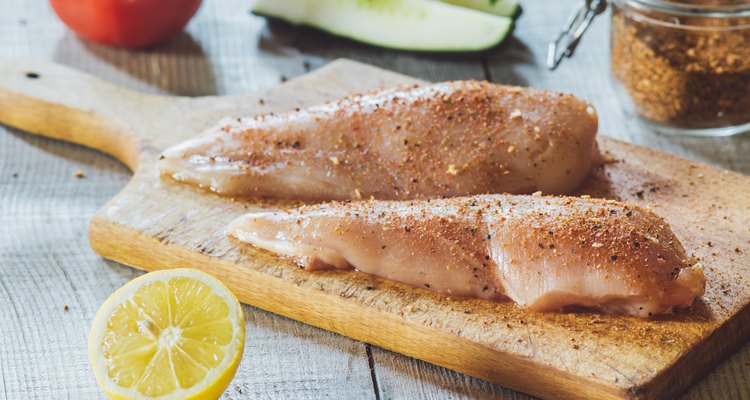 Micko1986/iStock/Getty Images
All card-carrying foodies can extol the virtues of Le Creuset's French ovens. A rather fancy Dutch oven, this bright, enamel-covered cast-iron cookware is considered to be one of the finest available cooking vessels. A French company, Le Creuset began in 1925 when Armand Desaegher and Octave Aubecq combined their talents to create this legendary cookware. The French oven is a versatile vessel that is appropriate for everything from cooking casseroles to creating a flawless coq au vin. If you typically roast a turkey breast in a baking pan, try it in one of Le Creuset's round French ovens.
Rinse the turkey breast under cool water. Pat it dry with a paper towel and insert the breast into a 3-gallon resealable plastic bag.
Combine the salt, sugar and water in a bowl and mix thoroughly. Pour the brine mixture over the turkey breast in the bag. Add four and five of the sage sprigs, eliminate the air and seal the bag. Brine the turkey breast in the refrigerator overnight.
Remove the bag from the refrigerator and unseal it the next day. Allow the turkey to warm slightly at room temperature for about 30 minutes. Remove the breast from the brine and rinse it under cool water. Pat it dry thoroughly with paper towels.
Preheat the oven to 500 degrees F. If your French oven has plastic handles, you will not be able to use it at this heat and will need to compensate by cooking on the highest allowable temperature for a longer period of time.
Place the turkey breast on a plate and carefully insert your fingers between the skin and breast. Once you have enough of the skin loosened, rub olive oil along the entirety of the breast between the skin and meat.
Melt the butter over medium heat in the French oven. Remove the pan from the heat once the butter is melted.
Spread the carrots, apples, onion, garlic cloves and thyme sprigs along the bottom of the French oven. Place the turkey breast on top of the vegetables and fruit. Insert a thermometer into the thickest part of the breast, avoiding the bone. The U.S. Department of Agriculture recommends that meat be cooked to a safe temperature for consumption and turkey should be cooked to 165 degrees F.
Sprinkle the breast with pepper.
Place the uncovered Le Creuset pot into the oven and cook for 10 to 15 minutes or until the skin begins to brown.
Lower the temperature to 350 degrees F and fit the lid to the pot.
Cook the turkey for 1 1/2 to 2 hours or until the thermometer registers a safe temperature. Occasionally baste the breast with the juices in the bottom of the pot.
Writer Bio
Kristie Brown is a publisher, writer and editor. She has contributed to magazines, textbooks and online publications. Brown holds a Bachelor of Arts in English from the University of Texas at Austin.
Photo Credits
Micko1986/iStock/Getty Images