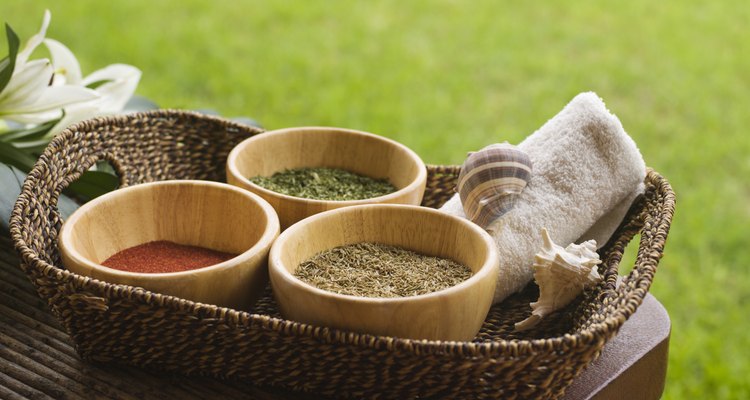 Joao Canziani/Digital Vision/Getty Images
Adobo describes three different things. It can be a Pinoy or Philippine cooking method using a mixture of spices, soy sauce and vinegar to marinate meat, fish or poultry. It also may be describing the sauce from canned chipotle peppers or a Mexican spice blend. Replacing ingredients in the marinade does not always produce the same flavor as the soy sauce and vinegar in the original version. Recreating the sauce or the spice blend takes just a few minutes and results in a very close flavor profile.
Pinoy Adobo Substitutions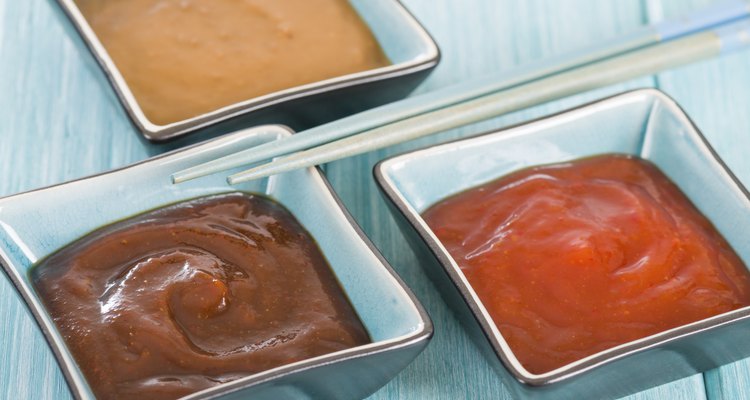 Paul_Brighton/iStock/Getty Images
Tamarind paste and amchur, or powdered mango, both provide a similar level of tartness to vinegar, advises Lori Alden. Alden's culinary experiences in the Peace Corps lead her to create her culinary substitutions website, "Cook's Thesaurus." Red wine makes an acceptable substitute for the flavor of red wine vinegar, while Madeira, marsala or port make good substitutes for sherry vinegar. Substitute fish sauce or teriyaki sauce for soy sauce.
Adobo Sauce Substitutions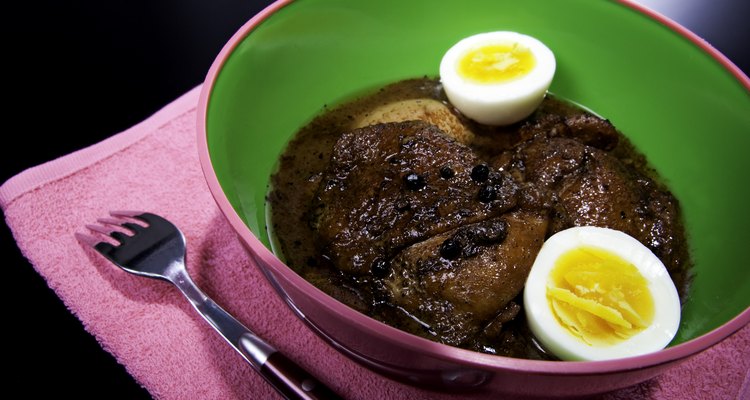 hardcoreboy/iStock/Getty Images
Adobo sauce, used to pack canned chipotle peppers, contains ground chile peppers, sesame seeds, peanuts, wheat flour, salt, corn starch, sugar, vinegar, garlic, pepper and cumin. You can find canned chili peppers in adobo sauce in the international foods section in most grocery stores. To make your own adobo sauce, put three grilled jalapeno peppers, one whole, grilled, red bell pepper, 1 teaspoon each of cumin, onion powder and garlic, half a teaspoon of creamy peanut butter, half a teaspoon of sugar and 2 tablespoons of vinegar in a blender. Pulse everything into thick paste and store it in the refrigerator in a container with a tight lid. Thin the adobo paste with 1/4 cup tomato sauce before use.
Adobo Seasoning Mix Substitutions
Adobo seasoning mix contains sweet paprika, ground black pepper, onion powder, dried Mexican oregano, ground cumin, garlic powder and chipotle chile powder or ground, dried chipotle peppers, according to Aliza Green, author of "Field Guide to Herbs and Spices." Many mixes consist of up to 2/3 salt, but you can omit that if you are on a salt-restricted diet. Green advises combining four parts paprika with three parts black pepper, two parts each of onion powder, dried oregano and ground cumin, and one part each of chipotle chili powder and garlic powder to make your own adobo seasoning mix.
Other Substitutes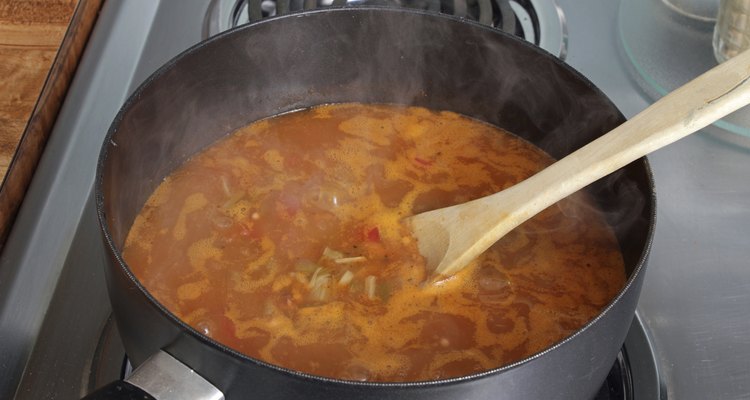 Warren Price Photography/iStock/Getty Images
Lemon or lime juice provide similar levels of acidity in Pinoy adobo marinades, but they change the overall flavor of the dish. Malt vinegar provides a nutty, wheat-like undertone, while beer or ale adds a yeasty, bread-dough aftertaste.
Season salt or Cajun seasoning mixes are heavier on salt than adobo and lack the smokiness of the cumin and chipotle. Add ground, smoked almonds to your adobo dish, and a dash of cayenne pepper sauce or a teaspoonful of ground red pepper flakes to balance the flavors.
References
Field Guide to Herbs and Spices; Aliza Green
Writer Bio
Jane Smith has provided educational support, served people with multiple challenges, managed up to nine employees and 86 independent contractors at a time, rescued animals, designed and repaired household items and completed a three-year metalworking apprenticeship. Smith's book, "Giving Him the Blues," was published in 2008. Smith received a Bachelor of Science in education from Kent State University in 1995.
Photo Credits
Joao Canziani/Digital Vision/Getty Images