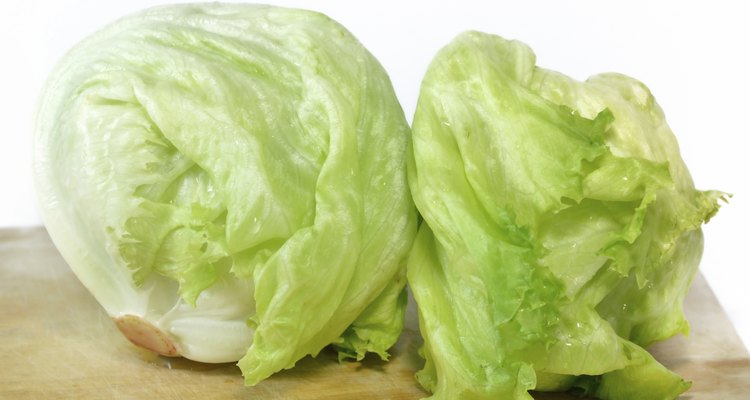 Kheat/iStock/Getty Images
Iceberg lettuce contains the vital nutrients vitamin A and potassium along with trace amounts of fiber and protein. It is grown as a cool-weather vegetable, thriving when the temperature stays between 60 and 70 degrees Fahrenheit. It's best planted in early spring, because once the heat hits its growth is stunted and the leaves turn bitter. While the best recourse from keeping it bitter is to protect the lettuce from heat, restoring it back to a sweet taste is possible over a few days if it turns bitter.
Wash the lettuce leaves under cool running water.
Pat the leaves dry with paper towels or spin them in a salad spinner to remove excess moisture.
Place the lettuce leaves in a ventilated bag or keep them in the salad spinner.
Put the lettuce in the refrigerator for about two days, or until the bitterness is gone and the leaves taste sweet.
References
Writer Bio
Sommer Leigh has produced home, garden, family and health content since 1997 for such nationally known publications as "Better Homes and Gardens," "Ladies' Home Journal," "Midwest Living," "Healthy Kids" and "American Baby." Leigh also owns a Web-consulting business and writes for several Internet publications. She has a Bachelor of Science in information technology and Web management from the University of Phoenix.
Photo Credits
Kheat/iStock/Getty Images