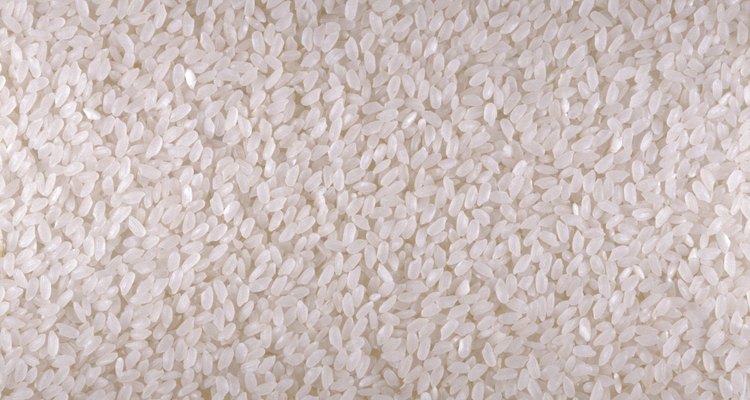 Jupiterimages/Photos.com/Getty Images
Crispy rice cakes are a dish commonly served for breakfast, as an appetizer or as a side dish in Chinese cuisine. They are made with cooked white or brown rice, seasonings and an egg to bind it all together. The egg and precooked rice give the interior of the cakes a bread-like consistency. The exterior of the cakes is crispy and rich with the flavor of your chosen seasonings. Approximately 20 minutes is required to make Chinese crispy rice cakes.
Blend the cooked rice, seasonings of your choice and the large egg in a medium bowl. Stir the rice cake batter until it forms an even consistency.
Pour enough peanut oil into a skillet to coat the bottom evenly. Place the skillet over medium-high and heat the oil for three minutes.
Divide the mixture in the medium bowl into four equal parts. Drop them into the hot oil, making sure the edges do not touch. You might need to work with two at a time, depending on the size of your skillet.
Allow the rice cakes to cook for three minutes and flip them carefully with a spatula. Press down on the cooked side of the rice cake with the back of the spatula to flatten it slightly. Allow the rice cakes to cook for an additional two minutes.
Remove the rice cakes from the hot oil and allow them to cool for five minutes before serving. Serve the Chinese crispy rice cakes while they are hot.
References
"The Wisdom of the Chinese Kitchen"; Grace Young and Alan Richardson; 1999
"Chinese Cooking For Dummies"; Martin Yan; 2000
"The Sweet Spot"; Pichet Ong and Genevieve Ko; 2007
Tips
Refrigerate leftover rice cakes immediately and eat them within 72 hours.
Writer Bio
Serena Styles is a Colorado-based writer who specializes in health, fitness and food. Speaking three languages and working on a fourth, Styles is pursuing a Bachelor's in Linguistics and preparing to travel the world. When Styles isn't writing, she can be found hiking, cooking or working as a certified nutritionist.
Photo Credits
Jupiterimages/Photos.com/Getty Images