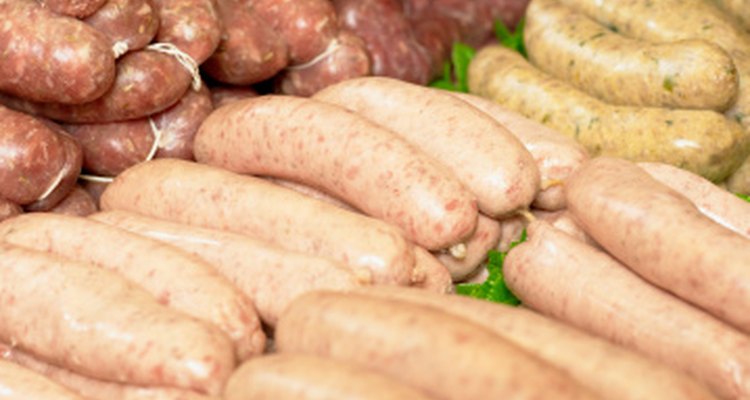 Michael Blann/Photodisc/Getty Images
You can bring the flavors of the midway home to your oven by making a batch of Italian sausage, peppers and onions for your next potluck, picnic or party, serving 50 or more people. Browning the sausages and using just the right amount of braising liquid are the keys to success with oven-baked sausage.
Cook the vegan, seitan or soy-based Italian sausage first. Heat a 12-inch skillet for two minutes on high heat before adding 1/4 cup of olive oil. Sear the vegan sausages on all sides before placing them in a 9-by-12-by-2-inch roasting pan.
Saute the quartered onions, 1 pound at a time. Add 1 pound of the sauteed onions to the vegan Italian sausage and divide the remaining 3 pounds of onions evenly between the two larger roasting pans.
Saute the bell peppers. Add 1 cup each of the red and green peppers to the vegan Italian sausages and distribute the remaining bell peppers evenly between the two larger roasting pans. Repeat for the banana peppers, adding 1/2 cup to the vegan sausages.
Saute the Italian sausages, 2 pounds at a time. Divide them evenly between the two large roasting pans.
Pour 1 cup of apple cider, bock beer or Chardonnay wine over the vegan sausages. Pour 2 cups of bock beer or Chianti over the Italian pork sausages. Cover the pans with foil.
Bake the vegan sausages at 350 degrees for 20 to 25 minutes, remove them from the oven and let them stand for 10 minutes before serving.
Bake the pork sausages at 350 degrees until a meat thermometer stuck into several sausages in the middle of the pan, without touching the sides of the pan, registers 160 degrees. Remove the sausages from the oven and keep them in warming pans. Discard any sausages remaining after two hours.
References
Rev. Gene Rowand; Student of Native American Shamanism and Medicine; Akron, Ohio
Resources
Tips
Larger, deeper pans require longer baking or roasting times, and multiple batches cooking at the same time require close attention, according to Liane Pifer of Great Party Recipes. Ingredients added for flavor enhancement, such as yeast, baking soda, oil and spices, work best in smaller batches, making it more effective to make multiple batches of a known and tested recipe, advises Les Kincaid, author of "Never Trust a Skinny Chef." Allow at least 5 to 6 oz. of sausage per person. Add an additional 1 to 2 oz. per person to account for shrinkage due to high fat content. This works out to between 19 and 25 pounds of sausage for 50 people.
Warnings
Always cook the vegetarian option first or use separate pans and utensils from the meat option, advises vegetarian Gene Rowand, who has cooked for up to 100 people per day during events at Brushwood Folklore Center in Sherman, New York, for the past eight years, adding, "Many vegetarians and vegans, including myself, become ill from eating food that was cooked in the same pan as meat, even if we did not see it done."
Writer Bio
Jane Smith has provided educational support, served people with multiple challenges, managed up to nine employees and 86 independent contractors at a time, rescued animals, designed and repaired household items and completed a three-year metalworking apprenticeship. Smith's book, "Giving Him the Blues," was published in 2008. Smith received a Bachelor of Science in education from Kent State University in 1995.
Photo Credits
Michael Blann/Photodisc/Getty Images