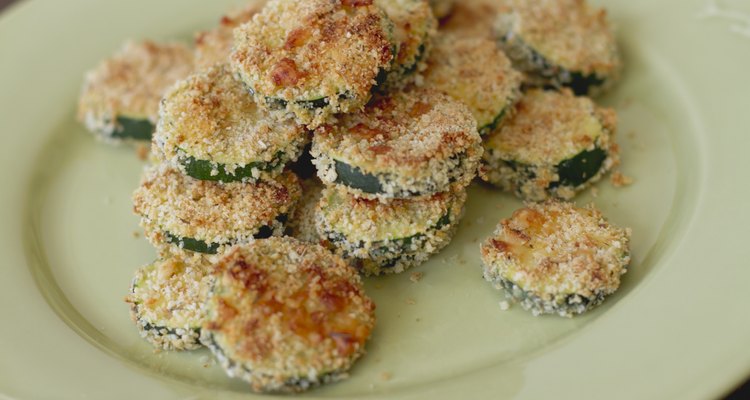 JB325/iStock/Getty Images
Breading and then freezing slices of summer squash provides additional options for serving what can sometimes be a bland tasting vegetable. Blanching 1/2-inch thick slices of, for example, zucchini for about three minutes is enough to partially cook the squash, making it possible to add frozen slices directly to a baking pan or skillet and finish the cooking process in 10 to 20 minutes.
Arrange fresh breaded squash slices in a single layer on a baking sheet.
Set the baking sheet in your freezer for two to three hours or until the slices freeze.
Transfer the frozen squash slices to plastic freezer bags. Lay each bag on a flat surface and close the seal to within one inch of its end. Press as much air out of the bag as you can, then insert a drinking straw and suck out any remaining air before you finish closing the seal. As an alternate option, stack the slices in rigid freezer containers leaving a 1/2-inch space between the squash slices and the top of the container.
References
Writer Bio
Based in Green Bay, Wisc., Jackie Lohrey has been writing professionally since 2009. In addition to writing web content and training manuals for small business clients and nonprofit organizations, including ERA Realtors and the Bay Area Humane Society, Lohrey also works as a finance data analyst for a global business outsourcing company.
Photo Credits
JB325/iStock/Getty Images