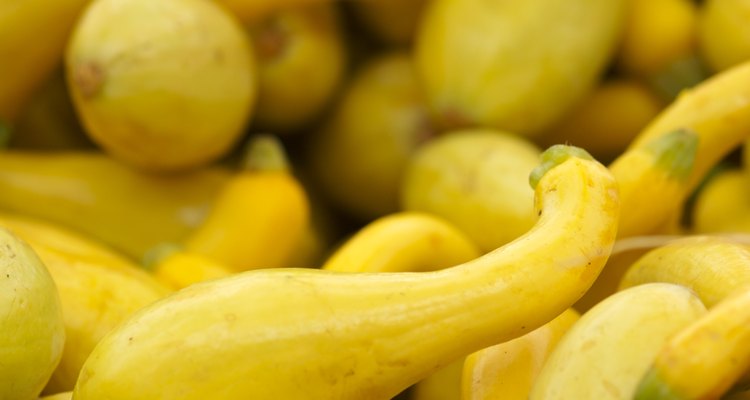 David Mendel/iStock/Getty Images
Crookneck squash is a type of yellow summer squash that is thicker at the blossom end than at the stem end. It gets its name from its bent, or crooked, stem end. Crookneck squash is slightly sweet, making it an excellent choice for serving with all types of meat or including in salads, pasta dishes and stews. When baking crookneck squash, it is best not to bake it whole. You will want to cut it into halves or slices to shorten cooking time and ensure even cooking.
Preheat your oven to 350 degrees Fahrenheit.
Wash the squash under cool running water. If the skin is obviously dirty, gently scrub it with a sponge and then rinse well. Do not peel.
Cut both ends off the crookneck squash, and then slice it in half length-wise. Scoop the seeds out with a spoon. If you wish to bake the squash as slices, cut the halves into slices at this time, and move to step 5.
Place a small piece of butter-- or for a healthier option drizzle olive oil -- into the hollow of each half. Sprinkle with dried rosemary or another seasoning.
Lay the pieces of squash in a shallow baking dish, butter side facing up. Add one inch of water to the bottom of the pan. If you wish to bake the squash as slices, simply cut the squash into slices and lay on a cookie sheet lined with parchment paper.
Bake for 20 to 40 minutes at 350 degrees Fahrenheit, or until the crookneck squash is tender and mashes slightly when pressed with a spoon. The timing for slices will be closer to 20 to 30 minutes.
References
Tips
Cook crookneck squash with the peel intact. Crookneck squash is naturally less nutritious than winter squash, and most of the nutrients it contains are concentrated in the peel, according to the University of Illinois.
You can also use a slicer to slice the squash into thin layers, lay them on a parchment lined cookie sheet, and bake them into chips. Baking time will vary on your oven. Keep an eye on the chips and remove when they are crispy.
Writer Bio
Sandra Ketcham has nearly two decades of experience writing and editing for major websites and magazines. Her work appears in numerous web and print publications, including "The Atlanta Journal-Constitution," "The Tampa Bay Times," Visit Florida, "USA Today," AOL's Gadling and "Kraze Magazine."
Photo Credits
David Mendel/iStock/Getty Images