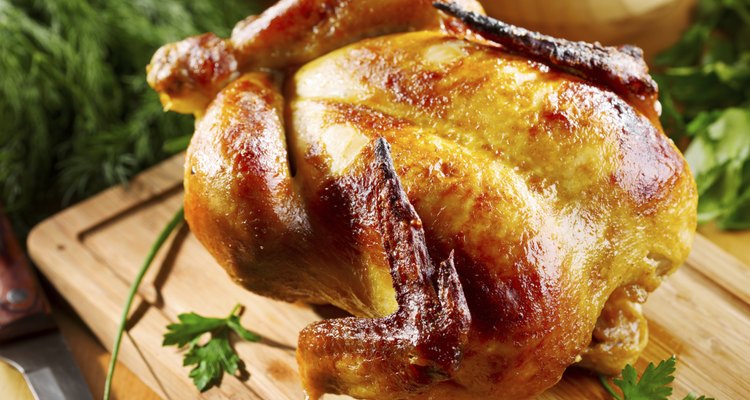 nitrub/iStock/Getty Images
Pinaupong manok, or sitting chicken, is a Filipino dish consisting of steamed chicken stuffed with vegetables. The chicken is steamed on a bed of rock salt, in a casserole pan on a stove top. The rock salt distributes heat evenly and tenderizes the chicken while infusing it with a rich flavor. Serve pinaupong manok with a side of vegetables for a complete meal, or shred it and serve it on sandwiches. You will need approximately one and one half hours to cook pinaupong manok. This recipe serves six to eight.
Pour 1 cup of the rock salt into the body cavity of the chicken, and use your hands to rub it over the interior. Rub an additional 1/2 cup of the rock salt over the exterior of the chicken.
Place the white onions, head of garlic, ginger root, whole peppercorns and bay leaf into the cavity of the chicken.
Pour the remaining rock salt into the casserole pan, and smooth it into an even layer.
Place the chicken onto the bed of rock salt, breast side facing down. Pour 1/2-inch of water into the casserole pan around the chicken.
Place the casserole pan over medium heat on the stove and cover it. Allow the chicken to cook for 75 minutes. Do not uncover the casserole pan during this time.
Uncover the pan and poke the exterior of the chicken with a fork. If its juices run clear, remove it from the heat. If they do not run clear, re-cover the chicken and repeat this test every 10 minutes.
Combine the minced ginger, minced garlic and olive oil in a saucepan. Place the saucepan over medium heat, and stir the contents for five minutes or until the ginger and garlic become fragrant. Remove the saucepan from the heat.
Dip a pastry brush into the contents of the saucepan and brush the exterior of the chicken with it.
References
"Filipino Cookbook"; Miki Garcia and Luca Invernizzi Tettoni; 2010
"Filipino Homestyle Dishes"; Norma Olizon-Chikiamco; 2003
"Filipino Cuisine"; Gerry G. Gelle; 1997
Writer Bio
Serena Styles is a Colorado-based writer who specializes in health, fitness and food. Speaking three languages and working on a fourth, Styles is pursuing a Bachelor's in Linguistics and preparing to travel the world. When Styles isn't writing, she can be found hiking, cooking or working as a certified nutritionist.
Photo Credits
nitrub/iStock/Getty Images