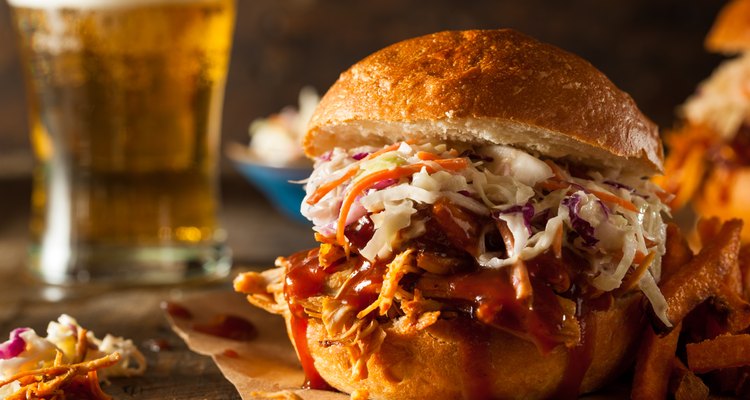 bhofack2/iStock/Getty Images
Jack Daniel's Pulled Beef is a heat-and-eat convenience product available in supermarket meat cases. Similar to classic Southern pulled pork, the beef is roasted, shredded and mixed with Jack Daniel's barbecue sauce. The company suggests serving its pulled beef on sandwich rolls, accompanied by sweet potato fries or onion rings. A 5.3-oz. serving of Jack Daniel's Pulled Beef provides 220 calories, 19 g of protein, 27 g of carbohydrates, 4 g of fat, 750 mg of sodium and 35 mg of cholesterol.
Oven
Heat your oven to 350 degrees Fahrenheit.
Open the plastic pouch, and empty the pulled beef into an oven-safe container. Discard or recycle the product packaging, including the cardboard tray, which is not safe for oven use.
Place a lid on the dish or cover it with aluminum foil, and bake for eight to 10 minutes. Remove the dish from the oven and serve.
Microwave
Remove and discard the tray's outer sleeve.
Place the meat pouch in the tray and microwave on high for two to three minutes or until hot.
Cut open the pouch, and transfer the pulled beef to a serving dish, then serve.
References
Tips
The company recommends heating its product in the microwave if possible.
Warnings
Use caution when cutting open the plastic pouch to avoid steam burns.
Writer Bio
Bryn Bellamy has written professionally since 1999 and specializes in food & drink, travel, outdoor recreation, nutrition and general features. She has a background in restaurant management and hotel catering, was a features editor for Gannett, and was nominated for a James Beard Award for Food & Drink design and editing. She holds a Bachelor of Arts in journalism from the University of Southern California.
Photo Credits
bhofack2/iStock/Getty Images