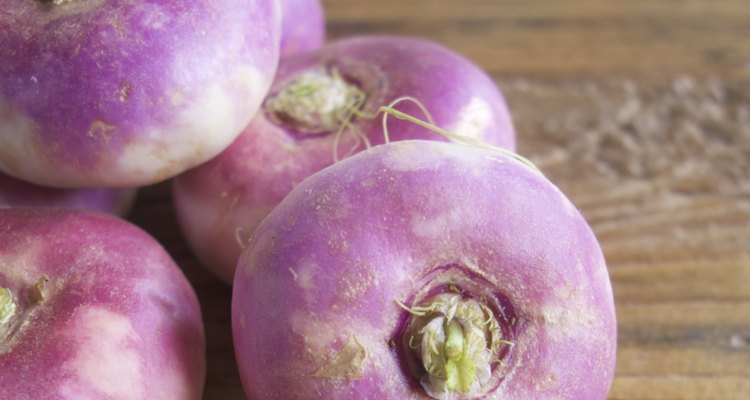 EvaintheKitchen/iStock/Getty Images
Purple turnips can have a mild, slightly sweet taste -- or they can taste like wood. A successful outcome depends less on whether you bake, boil, saute, or roast turnips than it does on careful selection.
The younger and smaller these veggies are, the better they will taste, so pick early or search through your grocer's produce display for turnips with a diameter of 3 inches or less. Turnips are a good source of vitamin C, potassium and iron.
They are low in carbohydrates and have only 36 calories per cup, which can make them a favorable alternative to regular roasted potatoes.
The "right" cooked turnip recipe can be a tasty and healthy side dish for your weekly dinner menu, and they pair perfectly with another veg like sweet potatoes, parsnips, radishes, rutabaga, and beets.
1. Rinse and scrub
Rinse and scrub 2 lbs., or about 12 small raw turnips, under cold running water, using a vegetable scrubber to remove dirt and residue from the peel.
2. Peel and cut
Peel turnip roots using a vegetable peeler. Cut each one into 1-inch cubes or bite-sized pieces with a sharp kitchen knife.
3. Add to Skillet
Add 1 tbsp. of the butter, margarine or olive oil to a skillet. Set the heat to medium. Add the maple syrup, cinnamon, nutmeg and black pepper, according to your taste preference. Stir to combine.
4. Boil liquid
Add the purple turnip cubes and enough water to equal a depth of 1/4 inch. Turn the burner to high and let the liquid come to a boil.
5. Simmer till tender
Lower the heat to medium and cover the pan. Let the turnip cubes simmer until they are fork tender, about a 7 to 8 minute cook time. Remove the cover and continue cooking another 3 minutes, or until the liquid cooks away. If you want a more crispy texture, you can cook for longer.
6. Season to taste
Add 1 tbsp. of butter, margarine or olive oil, parsley and lemon juice. Shake the pan or toss the turnip cubes lightly with a spoon to make sure the cubes are evenly coated with the maple syrup glaze.
7. Transfer to serving bowl
Transfer the turnips to a serving bowl with a rubber spatula. Sprinkle on black pepper and parmesan according to your taste preference. Serve hot and enjoy.
You can also cook purple turnips by boiling the cubes on your stove for about 10 minutes or steaming in a vegetable steamer for 12 minutes.
Other seasonings that enhance the flavor of root vegetables include vinegar, curry powder, chives, oregano, garlic powder, marjoram and thyme.
Turnip fries and mashed turnips are a popular way to prepare turnips, and are both keto-friendly and low-carb alternatives to regular fries or mashed potatoes.
Purple turnips have a high water content that does not equate to long-term storage.
While you can store them in a plastic food bag in your refrigerator for up to one week, try to cook purple turnips as soon as you can after picking or purchasing.
Writer Bio
Based in Green Bay, Wisc., Jackie Lohrey has been writing professionally since 2009. In addition to writing web content and training manuals for small business clients and nonprofit organizations, including ERA Realtors and the Bay Area Humane Society, Lohrey also works as a finance data analyst for a global business outsourcing company.
Photo Credits
EvaintheKitchen/iStock/Getty Images