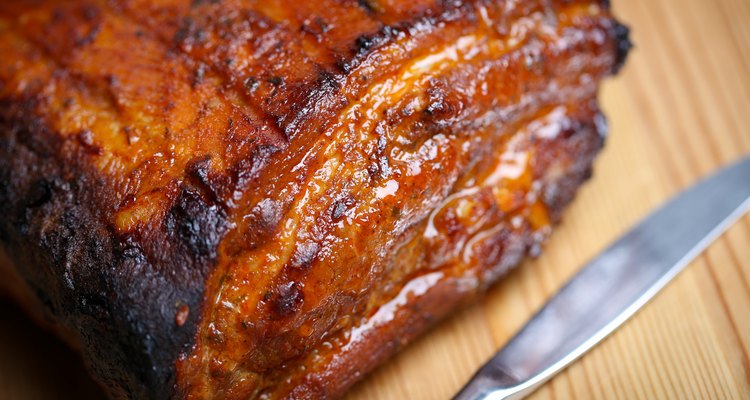 anhvabe/iStock/Getty Images
Pork belly is cut from the side of the pig; it is the same cut used to make bacon. A full pork belly is about 7 pounds, though your butcher can provide you with smaller cuts. Many recipes for "barbecued pork" don't involve an outdoor grill. These recipes roast or braise the pork using a barbecue sauce for flavor. Grilling techniques may involve long, low-temperature smoking or combine a braising technique with a grilled finish.
Smoking Pork Belly
Prepare the smoker for indirect heat. Lay a water pan in the pit on the left side, with a charcoal mound on the right. Fill the water pan with 1/3 inch of water and light the coals. Close the smoker lid, allowing the flames to burn down and the temperature to rise in the smoker. Add mesquite chips over the coals when flames die down.
Mix 2 tsp. salt, 1 tsp. paprika, 2 tsp. cumin, 1 tsp. black pepper and 1 tsp. coriander in a bowl. Massage the mix on the outside of the pork top and bottom.
Place the pork on the grill over the water pan with the fat side up. Close the lid and cook for 1 to 1.5 hours for a 3 lb. pork belly. Check the internal temperature with a meat thermometer; pork needs to reach 150 F in the center.
Braise and Grill Pork Belly
Mix the marinade by combining 1/4 cup olive oil, 1/2 juiced lemon and 1/4 cup apple cider vinegar with 2 tbsp. salt, 1 tbsp. black pepper, 5 garlic minced cloves and 1 tsp. cumin in a bowl.
Marinate the pork belly in an airtight container in the refrigerator for 12 hours.
Preheat the oven to 275 F.
Place the pork belly in a roasting pan with the marinade. Add enough water to set the pork in liquid but not cover it. Cover with aluminum foil and braise in the oven for five hours.
Remove the roasting pan from the oven and let the pork rest in the marinade for 2 hours. Heat the grill on medium-low, placing the pork belly with the fat directly over the flame for 20 to 25 minutes. Baste with fresh marinade if you want.
References
Writer Bio
With more than 15 years of professional writing experience, Kimberlee finds it fun to take technical mumbo-jumbo and make it fun! Her first career was in financial services and insurance.
Photo Credits
anhvabe/iStock/Getty Images