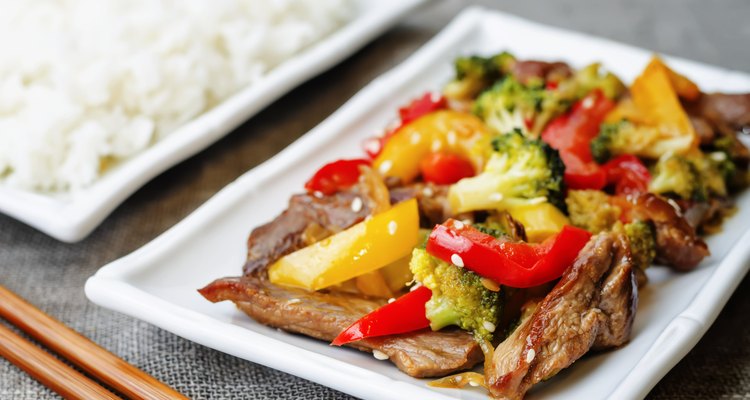 nata_vkusidey/iStock/Getty Images
In the 1800s, Asian food slowly made its appearance in the United States when Chinese immigrants arrived and settled in California. By the 1920s, young hipsters were attracted to the exotic flavors and interesting ingredients of Chinese food. By the 1970s, Thai and Vietnamese cuisine was introduced to American diners. Today, many popular dishes, including beef stir fry, from Asian countries are enjoyed around the US.
Combine ingredients. Grab a small bowl and combine 3/4 cup of orange juice, 3 tbsp. soy sauce, 2 tsp. ground ginger, 1 tsp. garlic powder and a pinch of ground red pepper. Mix the ingredients well, then pour half of the marinade into another bowl. Grab a plastic zip-top bag and pour the remaining marinade into the bag. Grab the beef strips and place it in the same bag. Zip the bag shut and shake and move the bag around to thoroughly cover the beef with the marinade. Place the bag in the refrigerator and let it sit for at least 15 minutes. The longer it sits, the better the beef will absorb the flavor.
Heat up the skillet. Place a large stir fry skillet onto the stovetop and heat it up over high heat. Remove the bag from the refrigerator and place the beef strips onto the skillet. Cook for three minutes or until the beef no longer looks pink. Remove the beef and set it aside on a clean plate. Add the vegetables and cook for three to five minutes or until the vegetables are crispy. While the vegetables are cooking, pour the remaining marinade into a small bowl. Add 1 tbsp. of honey and 1 tsp. of cornstarch and mix until the texture is smooth.
Add marinade in skillet. Pour the leftover marinade from the small bowl into the vegetable mixture in the skillet and stir. Reduce the heat to medium-high, or around 375 degrees F. Continue to stir until the marinade begins to boil, then continue stirring for one more minute. Grab the plate of beef strips and add it to the skillet. Stir the mixture around and let it cook until the beef is warm, or for at least three or four minutes. Serve the stir fry over rice or lo mein noodles.
References
Writer Bio
Susan Diranian is a writer for various online publications and magazines, specializing in relationships, health, fashion, beauty and fitness. She holds a Bachelor of Arts in English with a concentration in nonfiction writing and editing.
Photo Credits
nata_vkusidey/iStock/Getty Images