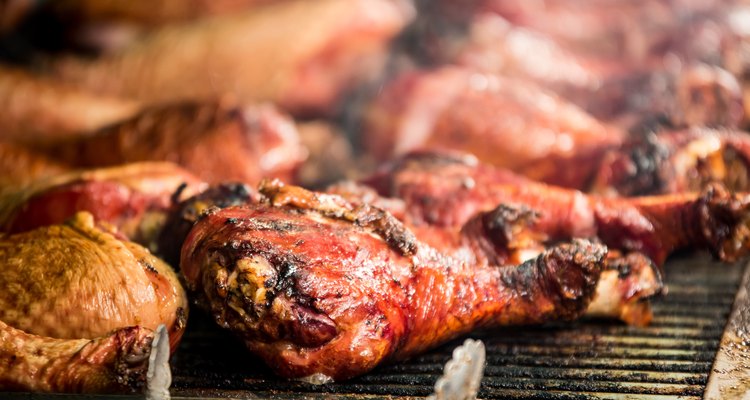 rustyl3599/iStock/Getty Images
Turkey legs make a low-cost, easy-to-prepare meal. They keep their moisture better than turkey breasts or fillets so they suit grilling well. Unlike grilling steaks or small pieces of meat, turkey legs need to cook longer at lower temperatures. The thickness of the leg means the center won't get hot enough with a simple searing and brief grilling. Turkeys don't come in one size so be sure to adjust cooking times depending on the size of your turkey leg.
Rub four large turkey legs in olive oil. Work the oil right into the skin and the underside of the meat. Rub cracked black pepper and sea salt into the oil after covering the leg.
Clean your grill pan or metal grates. Wipe a layer of olive oil over the metal. Heat your grill pan to a low/medium heat.
Put the turkey legs on the grill and cook for between 60 and 90 minutes, depending on leg thickness. Turn the leg every five minutes. Baste with some of the juices from the pan or a little butter if the leg starts to dry out.
Insert a cooking thermometer into the center of one turkey leg. If the thermometer reads 170 degrees F then the leg is ready to eat. If the temperature is lower, cook the turkey leg for a few more minutes and check the temperature again. Continue cooking until the center reaches 170 degrees F.
Serve the turkey leg with gravy or melt some garlic butter over the top.
References
Warnings
If the skin crackles and cooks too fast, turn the heat down as this may result in turkey that's cooked on the outside and raw inside.
Writer Bio
Based near London, U.K., Peter Mitchell has been a journalist and copywriter for over eight years. Credits include stories for "The Guardian" and the BBC. Mitchell is an experienced player and coach for basketball and soccer teams, and has written articles on nutrition, health and fitness. He has a First Class Bachelor of Arts (Hons.) from Bristol University.
Photo Credits
rustyl3599/iStock/Getty Images