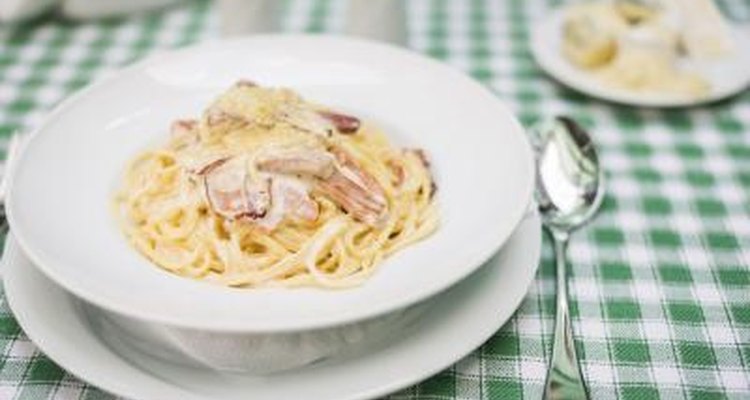 CristianSabau/iStock/Getty Images
Heart healthy white sauces allows those on a restricted diet to eat the creamy sauces they love. These recipes reduce the fat grams, sodium grams and calories in traditional white sauce recipes, rendering them heart healthy. Using low or nonfat dairy and substituting olive oil and healthy margarine in place of butter makes these recipes possible.
Basic White Sauce
Use this basic heart healthy white sauce over vegetables, in casseroles and as a base for soups. Mix together 1 tsp. basil, ¼ cup chicken or vegetable instant bouillon, ¾ cup cornstarch, 2 cups dry low-fat milk crystals, 2 tbsp. onion flakes, 1 tsp. thyme and ½ tsp. pepper. Whisk 1/3 cup of this dry mixture with 1 cup of water and save the rest for next time. Heat on the stove over medium heat until the onion flakes are soft. Do not boil.
White Clam Sauce
Make a heart healthy white clam sauce to pour over pasta or rice. Heat 1 tbsp. oil and sauté with one sliced large shallot, ½ tbsp. marjoram and 1/8 tsp. crushed red pepper. Add 1 cup white wine, cook over medium heat to reduce the liquid and add 3 to 6 oz. drained clams, clam juice from the drained clams, two heads roasted garlic and ¼ cup parsley. While tossing the pasta with the sauce, add 2 tbsp. butter and 1 tsp. lemon zest.
White Wine and Yogurt Sauce
Use heart healthy white wine and yogurt sauce over chicken breasts or breaded tofu cutlets. Melt 2 tbsp. margarine without hydrogenated oil in a sauce pan. Add 3 tbsp. flour and stir until combined. Whisk in ½ cup chicken or vegetable broth until the liquid is smooth and thick with no lumps. Turn off the heat and slowly stir ¾ cup plain nonfat yogurt, ¼ cup wine, 2 tsp. lemon zest and a pinch of black pepper. Serve the white wine yogurt sauce at the table so your guests can use a portion size appropriate to their diet.
Alfredo Sauce
Cook a heart healthy alternative to traditional Alfredo sauce. Do not boil the sauce at any point during the cooking process, or its creamy texture will be destroyed. In a medium saucepan, cook 2 cups nonfat chicken or vegetable broth and 1 cup low or nonfat milk crystals over medium heat, stirring frequently until thoroughly heated. Create a paste with 5 tbsp. cornstarch and 1 cup yogurt cheese -- an Israeli food called labneh -- until it becomes a smooth paste. Whisk ½ cup of the paste into the heated liquid. Gradually stir in 1 cup reduced-fat Parmesan cheese. Add salt and black pepper to suit your personal taste. Serve over pasta, steamed broccoli or a baked potato.
References
Writer Bio
Victoria Weinblatt began writing articles in 2007, contributing to The Huffington Post and other websites. She is a certified yoga instructor, group fitness instructor and massage therapist. Weinblatt received her B.S. in natural resources from Michigan State University and an M.Ed. from Shenandoah University.
Photo Credits
CristianSabau/iStock/Getty Images