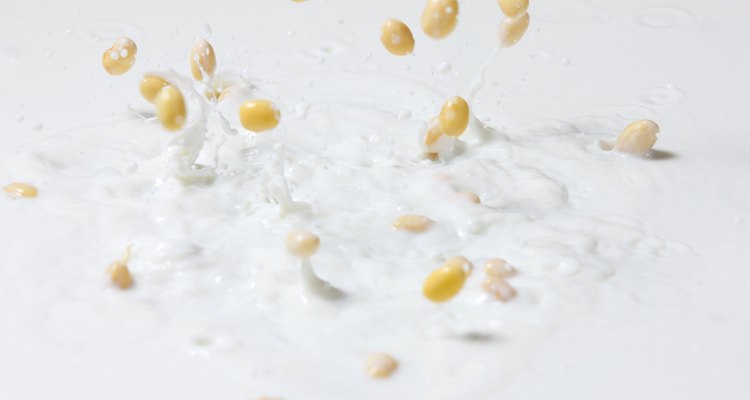 View Stock/View Stock/Getty Images
Soy milk has grown in popularity because of increased awareness of soy's possibility in lowering the risk of heart disease. It provides phytoestrogens and isn't just an alternative to cow's milk for people with lactose intolerance. Several brands of soy milk are on the market. Some brands feature lots of flavors, reduced-calorie selections, as well as added nutrients, such as omega-3 fats and fiber.
Silk
Silk is a widely sold brand of soy milk. WhiteWave, the makers of Silk soy milk, offers organic, light, plain soy milk as well as wellness varieties that contain added nutrients for heart-health, such as omega-3. During the holiday season, you can find pumpkin spice- and nog-flavored soy milks, as well as traditional plain, vanilla and chocolate. WhiteWave offers both refrigerated and shelf-stable soy milk products.
Vitasoy
Vitasoy is a shelf-stable soy milk sold in Canada, Asia and the United States. Vitasoy provides 7 g soy protein per serving. Vitasoy doesn't enrich its plain Vitasoy soy milk or any of the flavors for this line of soy milk. Vitasoy produces a variety of flavors, chocolate, plain, melon, malt, less sugar and coconut. Vitasoy makes San Sui Soy beverage, an enriched soy milk beverage. San Sui Soy is enriched with fiber and vitamins, such as riboflavin, A, D and B12. Flavors available include black soy, sweetened fortified, unsweetened fortified and sweetened fiber.
Soy Dream
Soy Dream makes shelf-stable and refrigerated soy milks. Soy Dream uses organic soybeans to make three varieties of soy milk, plain, enriched and vanilla-flavored enriched milk. The enriched varieties have added vitamin A, D, E, B12 and fiber. The organic original flavor Soy Dream has no added vitamins or fiber.
8th Continent
8th Continent soymilk is made from non-genetically engineered or non-GMO soy beans grown in the United States. All varieties of milk made by 8th Continent are gluten-free, lactose-free and certified vegan. The Complete Vanilla-flavored soy milk is made from GMO soy beans. The other flavors featured by the company, original, vanilla, light original, light vanilla, light chocolate, fat-free original and fat-free vanilla are made from non-GMO soy beans. All flavors provide 6.25 g protein per serving. Complete vanilla has added omega-3 DHA or docosahexaenoic acid to promote brain, vision and nerve function. 8th Continent uses fructose, sugar and sucralose as sweeteners.
References
Writer Bio
Cydney Walker is a registered dietitian and personal trainer who began writing about nutrition and exercise during her dietetic internship in 2000. She has been featured in "Voices" and by the National Medical Association for her HIV research. She earned her master's degree in human sciences from Texas A&M University in Kingsville.
Photo Credits
View Stock/View Stock/Getty Images