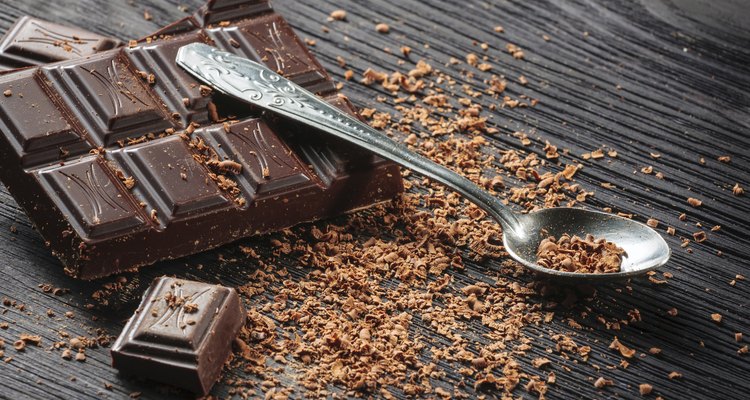 dziewul/iStock/Getty Images
Dark chocolate contains high levels of flavonols, powerful antioxidants that may reduce your risk of developing cardiovascular disease and certain cancers, as well as slow down the aging process. Consume chocolate brands that contain at least 70 percent cocoa to obtain the greatest amount of antioxidants, recommends the Clemson Cooperative Extension. Chocolate made with organic ingredients may contain higher levels of antioxidants, according to the Organic.org website.
Green & Black
Green & Black is a subsidiary company of the large candy manufacturer, Cadbury. Green & Black produces high quality, predominantly organic chocolate products. Their darkest chocolate bar contains 85 percent cocoa. According to the Green & Black website, this chocolate bar is made of all organic ingredients, including organic chocolate liquor, organic cocoa butter, and organic fat-reduced cocoa powder. Although dark chocolate bars are notoriously bitter, Green & Black adds Madagascan organic vanilla to offset the strong flavors of this cocoa rich chocolate bar. Other Green & Black products include a 72 percent organic baking bar and a 100 percent Fair Trade cocoa powder.
Ghiradelli
American chocolate producer, Ghiradelli, offers a variety of high cocoa content products. While these products are not made with organic ingredients, they do contain all-natural ingredients. Ghiradelli offers an 86 percent cocoa chocolate bar called Midnight Reverie. Its flavor is described on the Ghiradelli website as deep and full bodied with a hint of dark cherries and dried plums. This company also offers two types of chocolate baking bars that are high in cocoa content: the 100 percent unsweetened chocolate baking bar and the 70 percent bittersweet chocolate baking bar.
Grenada
Small-scale, organic chocolate producer, Grenada, offers a variety of antioxidant-rich chocolate products. The cocoa and cocoa butter used in its dark chocolate bars come from organic cocoa groves in Grenada, meeting the USDAs National Organic Program standards, states the Grenada website. The company's darkest chocolate bar is made using 82 percent cocoa. This chocolate bar has an intense, yet fruity cocoa flavor as described by the Grenada website. There is no added cocoa butter in the 82 percent chocolate bar; instead it contains an organic soy lecithin emulsifier.
Dagoba
Dagoba Organic Chocolates produces a distinct assortment of dark chocolate products that contain more than 70 percent cocoa. According to the Dagoba website, the Eclipse dark chocolate bar has an 87 percent cocoa rating. Dagoba Organic Chocolates offers an innovative way for you to boost your antioxidant levels by enjoying a hot cup of rich, dark drinking. These drinkable chocolate products contain a high percentage of organic cocoa. In addition, the company's organic unsweetened baking chocolate boasts 100 percent cocoa content.
References
Writer Bio
Susanne Preble has been sharing her equestrian insight and travel experiences with readers since 2003. She has been teaching, training, and managing professional facilities for more than 20 years. Preble holds an Associate of Arts in accounting and will soon obtain her Bachelor of Science in business administration. She graduated from the University of Phoenix in 2008.
Photo Credits
dziewul/iStock/Getty Images