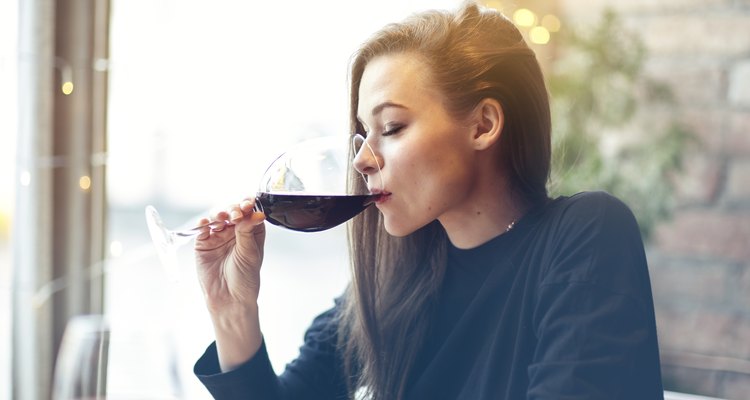 pogorelova/iStock/GettyImages
Charles Shaw wine is sold at Trader Joe's for $1.99 per bottle, earning it the nickname "Two-Buck Chuck." Its low retail price makes it a popular choice among American consumers.
About Charles Shaw Wine
According to a 2007 article on CNN.com, Charles Shaw wine is the marketing creation of Bronco Wine CEO Fred Franzia. Charles Shaw wine, while carrying the label of Napa Valley, is made from much cheaper Central California grapes, allowing it to be sold for $1.99 per bottle. The line was sold to Trader Joe's in 2002.
Charles Shaw Red Wines
There are 122 calories in a five-ounce serving size of Merlot. A serving size contains 3.69 grams of carbohydrates and less than a gram of sugar. There are also 121 calories, 3.4 grams of carbohydrates and no sugar in a five ounce serving of Pinot Noir.
Charles Shaw White Wines
According to MyPlate, a Chardonnay has 125 calories and 3.15 gram of carbohydrates, including less than a gram of sugar, in a five-ounce serving while the same serving of Sauvignon Blanc has 120 calories, three grams of carbohydrates and no sugar.
Alcohol and Weight Loss
While imbibing in wine on occasion can be a treat, if you're trying to lose weight you may want to hold back on the alcohol intake. According to celebrity trainer Jillian Michaels, by releasing estrogen into your blood, alcoholic beverages increase fat storage and decrease your ability to grow muscle.
Alcohol also lowers inhibitions, so you might overdo it on the party snacks on top of the calories in your beverage of choice. If you do drink, drink responsibly. For every alcoholic beverage, drink an eight ounce glass of water.
References
Writer Bio
Jeff Goldberg began writing in 1985 with the "Hartford Courant," until 2008, primarily covering the Boston Red Sox and University of Connecticut basketball. Goldberg also served as the Red Sox blogger for New England Sports Network" and currently covers the Red Sox for "Boston Metro." Goldberg attended Northeastern and Central Connecticut State University, majoring in communications.