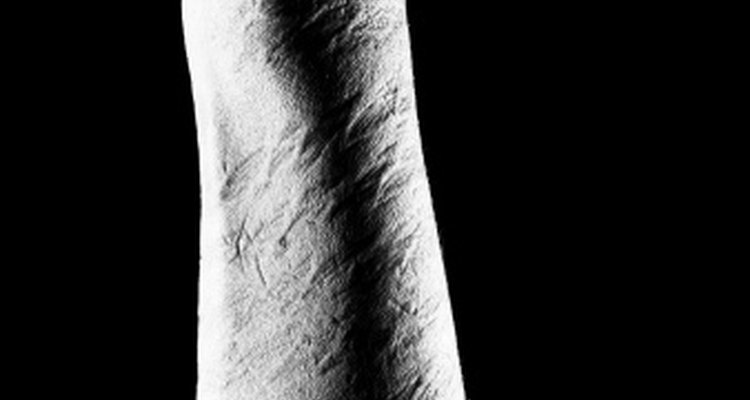 Valentin Casarsa/Photodisc/Getty Images
Collagen is a protein in the connective tissues of your body that helps hold your skin together and keep it elastic. Normally, the presence of collagen in your skin is a good thing; it helps prevent the signs of aging, and many anti-aging products contain collagen as a main ingredient. But excess amounts of collagen in certain areas can create unsightly stretch marks or scars after the skin is stretched or injured. Although there isn't a way to reduce the amount of collagen your body produces naturally, you can take steps to decrease collagen buildup.
Limit your use of skin care products that contain collagen. Many facial creams, body lotions and anti-aging products list collagen as a skin-firming ingredient.
Perform massage on the areas in which collagen buildup has occurred. Apply collagen-free lotion to your hands and rub fingers over the length of the affected area in small circles. Massage is most effective on new scars that have finished scabbing; it is less effective on older scars and stretch marks.
See your doctor or dermatologist if you have severe burns or scars that don't respond to self-massage. An ointment containing collagenase, which breaks down collagen, is available by prescription for severe burns or dermal ulcers.
References
Writer Bio
Sarah Barnes has been a professional writer and editor since 2004. She has been published in newspapers and regional magazines in the Wichita, Kansas area. Barnes holds a Bachelor of Arts in journalism from a Midwestern university.
Photo Credits
Valentin Casarsa/Photodisc/Getty Images