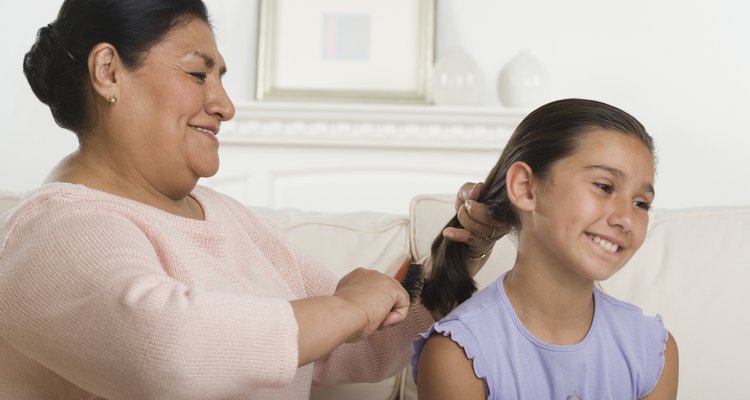 JGI/Blend Images/Getty Images
Trying to find a flea treatment for your children can be a chore. Commercially-prepared treatments that are designed for human hair are hard to find and finding a treatment for children that does not include a variety of harsh chemicals can be difficult as well. However, there is an alternative treatment you can make that contains all natural ingredients and little prep work. One such remedy uses tea tree oil. According to the American Academy of Pediatrics, tea tree oil can be effective for killing insects.
Mix 1 tsp. tea tree oil with ¼ cup of grape-seed or olive oil in a small glass jar such as a mason jar or a clean baby food jar. Close the lid tightly and gently shake the mixture.
Put on the gloves and dip your fingers into the mixture.
Apply the mixture liberally to your child's scalp. It is not necessary to coat all of the hair.
Run the fine-tooth comb through your child's hair. This will help rid her hair of remaining fleas. Do not rinse when you are finished combing. Hair may be washed after 24 hours.
References
Tips
Store the unused mixture in a bottle with a tightly closed lid in a cool, dry place. To help prevent further flea infestation, add ¼ tsp. pure tea tree oil to your child's shampoo.
Writer Bio
Jesse Barthel has been writing professionally since 2008 with expertise on the topics of Autism-related treatments, green culture and alternative medicine. She is currently attending Daytona State College in Palm Coast, Fla., working toward an Associate of Applied Science in marine biology.
Photo Credits
JGI/Blend Images/Getty Images