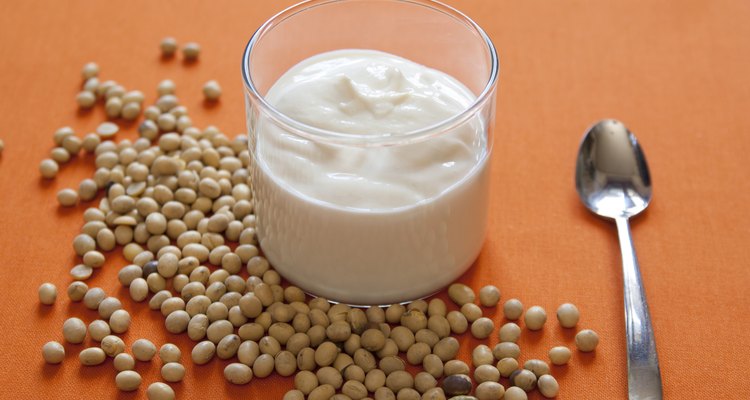 post424/iStock/Getty Images
Those following a vegan diet do not consume any animal products. Among the foods that are off-limits on this diet are dairy products made from cow's milk, such as sour cream. However, for certain recipes or as a condiment, you may be looking for a vegan substitution to sour cream. There are several options available that offer a similar consistency and flavor.
Soy Yogurt
According to the Vegetarian Kitchen website, soy yogurt makes an acceptable sour cream substitute just as regular yogurt, made from cow's milk, is often used as a healthy substitute for regular sour cream. Use regular, unflavored and unsweetened soy yogurt, particularly if you are using it for a dip recipe, so that it will not clash with the other ingredients such as herbs, minced vegetables and/or seasoning mixes. Plain soy yogurt also works well in salad dressing recipes, and can be substituted for sour cream using a 1:1 ratio.
Silken Tofu Purée
The Go Dairy Free website recommends pureed silken tofu as a sour cream substitute. Choose firm silken tofu for best results. Firm silken tofu has a consistency much like that of thick and creamy sour cream when blended. If it is too thick, you can thin it out with a very small amount of non-dairy creamer. Because tofu is bland, it picks up the flavors of other ingredients when used in recipes.
Sour Tofu Cream
While silken tofu purée may be used plain as a sour cream substitute, "jazzing" it up gives it a better sour-cream flavor. Go Dairy Free offers a recipe for tofu sour cream, one of which calls for an 8-oz. package of firm silken tofu, 3 tbsp. lemon juice or 1.5 tbsp. vinegar, 2 tbsp. olive oil, 1.5 tsp. honey, maple syrup or sugar, and 1/8 tsp. sea salt. Purée all of these ingredients together and thin out the mixture with 1 tbsp. soy milk or creamer, if desired.
References
Writer Bio
Michele Turcotte is a registered, licensed dietitian, and a certified personal trainer with the National Academy of Sports Medicine. She has more than 12 years of experience in clinical and corporate settings, and has extensive experience in one-on-one diet counseling and meal planning. She has written freelance food and nutrition articles for Trouve Publishing Inc. since 2004.
Photo Credits
post424/iStock/Getty Images