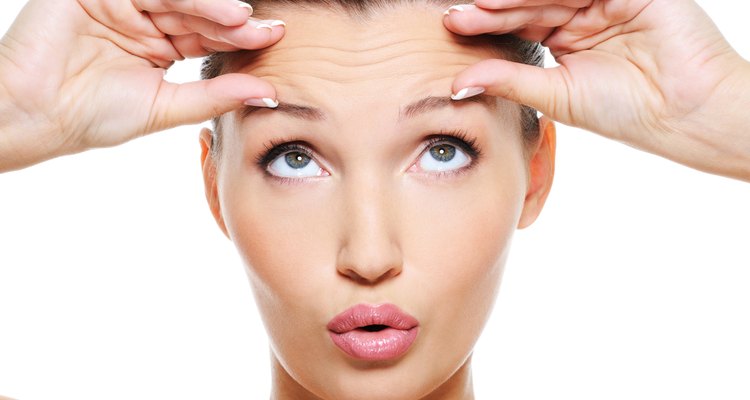 Valua Vitaly/iStock/Getty Images
Facial masks can be a luxurious treat, and they can deliver visible results by reducing the prominence of lines and wrinkles. Masks don't have to be expensive or commercially made to work. Simple homemade honey masks are especially effective on wrinkles due to honey's natural age-fighting properties, and they take little time and cost pennies to make.
Expert Insight
In her book "The Mind-Beauty Connection," dermatologist Amy Wechsler notes that honey is a natural humectant, which means it helps moisturize the top layers of skin. This extra moisture helps "improve the appearance of wrinkles" and "soothes dry, sensitive, or irritated areas" of your face. Dr. Wechsler says that honey's antioxidant content is another property that makes it a natural age-fighter.
History
According to historian Victoria Sherrow, facial masks "may be the world's oldest facial treatment." She notes that women have long made their own masks from natural ingredients to clean and tighten skin and to minimize wrinkles. Honey, she says, has shown up in skin care routines in ancient cultures as far back as the Romans and Egyptians.
Applications
Honey anti-wrinkle mask recipes generally call for one or more other natural ingredients to mix into the honey, such as whole milk, papaya, avocado or yogurt. Some recipes instruct you to warm the mask mixture before applying it, and almost all recipes say to leave the mask on for a length of time, usually 30 minutes. Not every recipe calls for massaging your face with the honey mask mixture, but if you do, the massage will increase blood circulation and tighten muscles and other tissues, enhancing the wrinkle-lessening effect. Warm water and a washcloth are usually all you need to remove the mask.
Benefits
Honey masks leave skin smoother and more hydrated, and they can improve the look of wrinkles and fine lines. Your skin may also feel tighter and more toned after a honey mask. According to Dr. Wechsler, honey's stickiness and thickness make it a protective salve that can "seal out infection" and "create a moist healing environment" for your skin.
Considerations
No honey mask is a permanent cure for wrinkles--the plumping and smoothing effects are temporary. While honey masks do work as desired for many people, your results may be different. You might need to experiment with different honey mask recipes to find the one that works best for your skin. Of course, if you are allergic to any ingredient in a mask recipe, don't use that ingredient.
References
Resources
Writer Bio
Laura Jensel has been a full-time freelance writer for over six years. Her articles and craft projects have appeared in local and national publications, including Disney's FamilyFun Magazine. She also holds a B.A. in Psychology.
Photo Credits
Valua Vitaly/iStock/Getty Images