Darrin Klimek/Digital Vision/Getty Images
Primitive camping doesn't mean a camper has to gnaw on a scrap of beef jerky or eat wild roots and berries for the duration of a camping trip. Foods suitable for primitive, or wilderness, camping should be appetizing as well as nutrient-packed. Stopping to eat during days filled with strenuous outdoor activity ought to be a pleasurable, not punitive, experience that enhances the camping trip. Choosing foods for primitive camping often boils down to the size of the camper's budget, backpack, canoe or kayak.
Freeze-Dried or Dehydrated Foods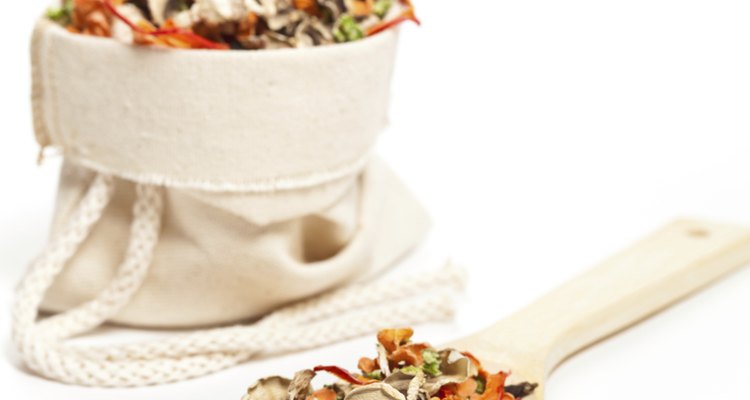 alisafarov/iStock/Getty Images
Foods that only require the addition of boiled water to reconstitute them is a staple for many backpackers or wilderness campers. Ramen noodles or dehydrated soups in Styrofoam containers tend to head any list of dehydrated foods, but wilderness or primitive camping shops and websites also tantalize campers with a wide array of freeze-dried or dehydrated meals in sturdy, water-proof pouches that can be delicious but pricey. Pre-packaged instant grits, potatoes and cream of rice are quick-cooking foods that come to life with a little water and can be spiced up with cheese, brown sugar, raisins or dried fruits.
Meals-Ready-To-Eat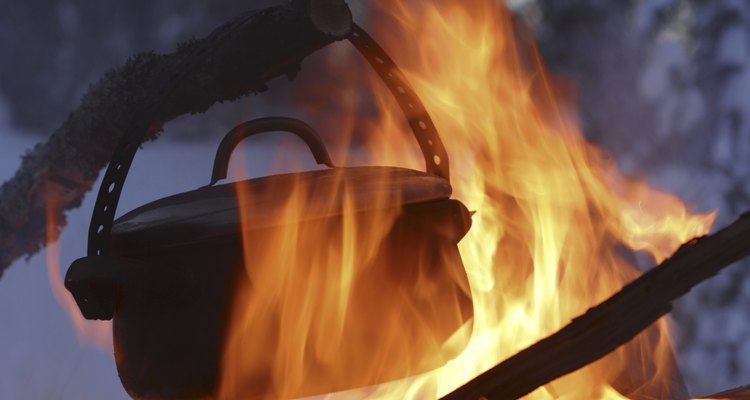 Hemera Technologies/AbleStock.com/Getty Images
Meals-ready-to-eat, or MREs, provide a hearty, no-mess answer to meals prepared in a primitive campsite, says the Wilderness Camping Guide website. From entrees to desserts, these rather expensive ready-to-eat meals initially created for military use come in foil, vacuum-sealed, waterproof pouches that require warming, or not. The Wilderness Camping Guide website also suggests packing main entree MREs and supplementing other meals of the day with snack foods, freeze-dried items, or other fast trail food.
Canned Foods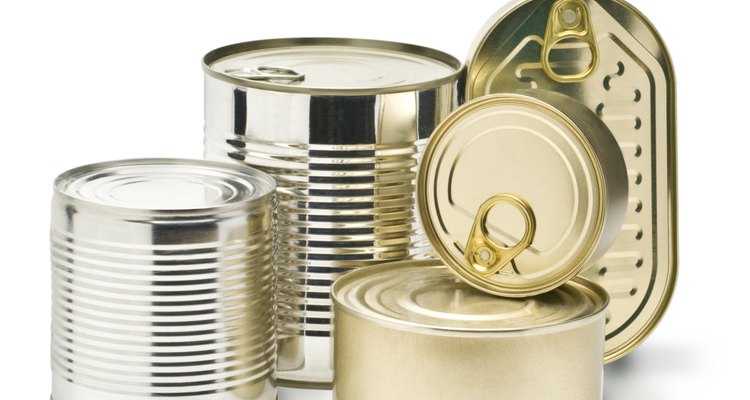 alexandr kornienko/iStock/Getty Images
If the weight of a backpack isn't an issue, canned meals, such as tamales, ravioli, chili and stew are energy-packed foods suitable for primitive camping--as long as there is a can opener handy. The Going Tent Camping website also reminds campers that empty cans pull double-duty as containers for boiling water or storing small items. Cans of tuna, chicken or salmon spread on crackers or added to noodles or rice provide much-needed protein for hiking, mountain-climbing or fly-fishing in a quiet stream.
Snacks and Trail Food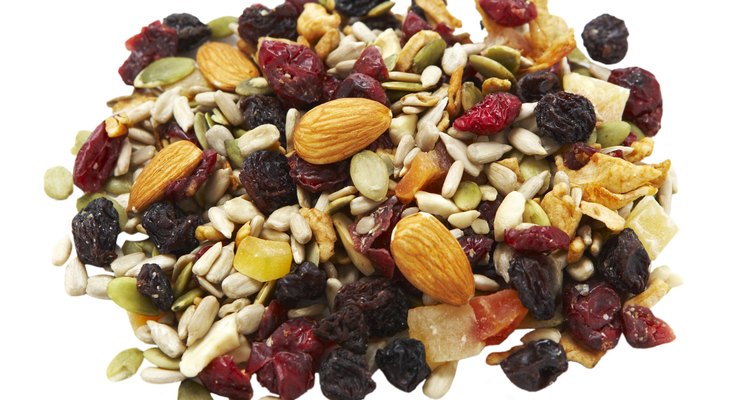 Thomas Northcut/Photodisc/Getty Images
GORP--good old raisins and peanuts--is a tried-and-true favorite food of hikers and campers, says the Backpacker website. The protein in peanuts or other nuts, mixed with the Vitamin C in raisins, dried pineapple or dried cherries, and the addition of quick-energy chocolate chips or other candy can be consumed on the run, in any weather and with or without a fire. Pack plenty of granola bars, protein bars and assorted dried fruits along with sealed bags of GORP to complete any primitive camping quick-snack list.
Easy Breakfast Foods
Jupiterimages/Stockbyte/Getty Images
Breakfast can be an uncomplicated meal of cereal, eaten dry or with canned or powdered milk, assuming that a ready supply of water is available. Bagels, cereal bars, tortillas or pita spread with peanut butter, cheese or hummus are easy-to-prepare breakfast foods. The Kayak Catalina Island website also reminds campers not to forget about instant coffee, hot chocolate and herbal or black teas as breakfast beverages.
References
Resources
Photo Credits
Darrin Klimek/Digital Vision/Getty Images