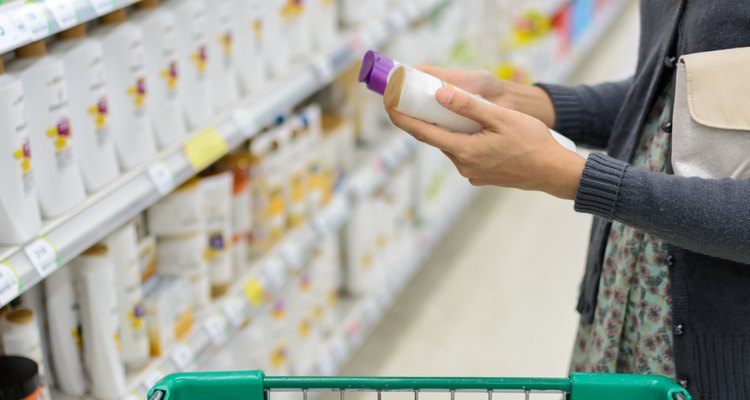 kitzcorner/iStock/Getty Images
Nizoral shampoo is used in the treatment of dandruff, which can be a chronic and embarrassing condition that likely will not completely go away but can be successfully treated. Dandruff usually can be treated with over-the-counter medications. Some people may need to rotate dandruff treatments to prevent worsening or recurrence of their dandruff symptoms.
Salicylic Acid
Salicylic acid is an active ingredient in some dandruff shampoos. According to Mayo Clinic, salicylic acid slows skin-cell death and reduces malassezia, a fungal cause of dandruff. Salicylic acid could dry out the scalp, however, which can cause flaking of a different variety. Use conditioner in addition to shampoos containing salicylic acid.
Coal Tar
Coal tar is a natural anti-fungal that comes from coal manufacturing. Coal tar slows the dying off of skin cells, according to Mayo Clinic. Be wary of using coal tar shampoos if you have light-colored hair since coal tar can cause a brownish discoloration in your hair.
Tea Tree Oil
Preparations containing 5 percent tea tree--Melaleuca alternifolia--oil can be effective in treating dandruff, according to "The Duke Encyclopedia of New Medicine." Tea tree oil is a natural antibiotic, anti-fungal and antiseptic.
Selenium Sulfide
According to Mayo Clinic, selenium sulfide works to reduce the dying of skin cells and may reduce malassezia. Selenium sulfide also can discolor light hair, so use the shampoo with care and follow the instructions precisely.
Zinc Pyrithione
Zinc pyrithione is an active ingredient in some dandruff shampoos due to its anti-fungal and antibacterial properties. According to Medical News Today, zinc pyrithione slows the production of yeast, which may play a part in causing dandruff.
Home Remedies
There are a few lifestyle and hair care routines that may help in the treatment of dandruff. Shampoo your hair every day instead of every few days to keep the scalp's oil at bay. Alternate strong shampoos--such as tar coal shampoos--with regular shampoo to reduce damage to your hair. Change your active ingredient if you notice your scalp is adapting and the shampoo is not working as well as it once did. According to the "Doctor's Book of Home Remedies," stress can worsen dandruff. Practice regular relaxation exercises to keep stress at bay.
Herbal Preparations
Some herbal preparations may be useful in the treatment of dandruff. Prevention's "Natural Healing Guide" recommends trying rosemary, thyme, flaxseed or evening primrose oil on your dandruff. Add a few drops of rosemary oil to rosemary tea and use it as a hair rinse after shampooing. Add 4 tbsp. of dried thyme to 2 cups of boiling water in a non-aluminum pot for 10 minutes. Strain and allow the tea to cool. Pour it over damp hair and massage it into the scalp. You do not need to rinse it out. Flaxseed and evening primrose oils are essential fatty acids that can be taken to help the body prevent rapid shedding of dead skin cells.
References
"The Duke Encyclopedia of New Medicine"; The Center for Integrative Medicine at Duke University; 2006
"The Doctor's Book of Home Remedies"; Prevention Health; 2002
"Natural Healing Guide"; Prevention; 2000
Writer Bio
Angie Briggs has been a health and fitness writer since 2006. Her articles have been published on eHow, LIVESTRONG.COM and GardenGuides. She graduated from Thompson Institute with a diploma as a computer support specialist and received certification from CareerStep as a medical transcriptionist and medical language specialist.
Photo Credits
kitzcorner/iStock/Getty Images