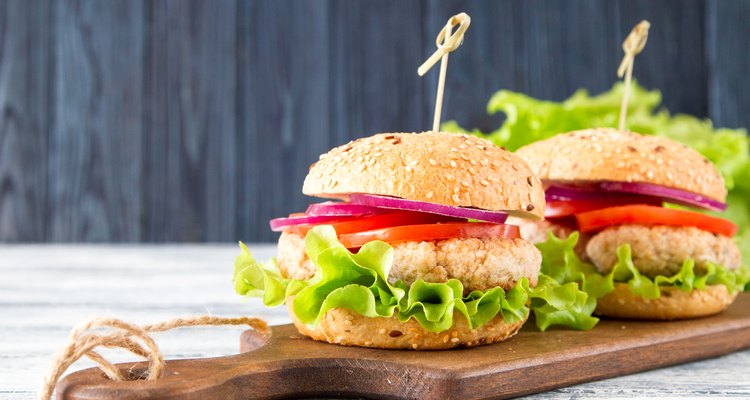 Ivannag82/iStock/GettyImages
All of the Flavor With a Fraction of the Calories
Ground turkey is a healthy protein choice, no matter how you cook it. To keep it lower in calories, drain off any extra fat or blot it with a paper towel just as do with ground beef. With plenty of variations in your ground turkey repertoire, you can eat this healthy alternative to beef multiple times per week.
1. Turkey Burgers
With a few modifications, turkey burgers are just as satisfying as ground beef. Add moistening agents, such as a teaspoon of olive oil, a tablespoon of chopped jalapenos or 1/4 cup of finely chopped mushrooms to keep the meat from drying out too much. Or, top the burger with a slice of canned green chile pepper for a quick way to keep the burger moist, delicious and healthy.
2. Turkey Meatloaf
As with turkey burgers, turkey meatloaf needs more moisture than a ground beef loaf. Simply chop up about 3/4 cup of mushrooms to a fine dice and add those to the ground turkey along with the normal meatloaf ingredients. If you want, toss in about 1/2 cup of one other finely chopped vegetable as well, such as a bell pepper, onion or carrots. One or two finely chopped or minced cloves of garlic boosts the flavor even more.
3. Sloppy Joes
A family favorite, sloppy Joes with ground turkey have plenty of moisture from the ketchup-based sauce. Personalize your sloppy Joe with the addition of corn kernels, chopped bell peppers or a can of pinto beans. With the blend of flavors and a dash of hot sauce, your family will not miss the beef.
4. Ground Turkey Lettuce Wraps
A wealth of Asian flavors, including fish sauce, soy sauce, lime juice and chopped cilantro, flavor ground turkey for lettuce wraps. Add carrots that you can buy already grated or chopped, and finely dice a cucumber to create a warm-weather meal. Lettuce wraps can be messy if you add too much soy sauce, so pour off any extra if your mixture turns watery.
References
Writer Bio
Susan Lundman began writing about her love of cooking, ingredient choices, menu planning and healthy eating after working for 20 years on children's issues at a nonprofit organization. She has written about food online professionally for ten years on numerous websites, and has provided family and friends with homemade recipes and stories about culinary adventures. Lundman received her M.A. from Stanford University.