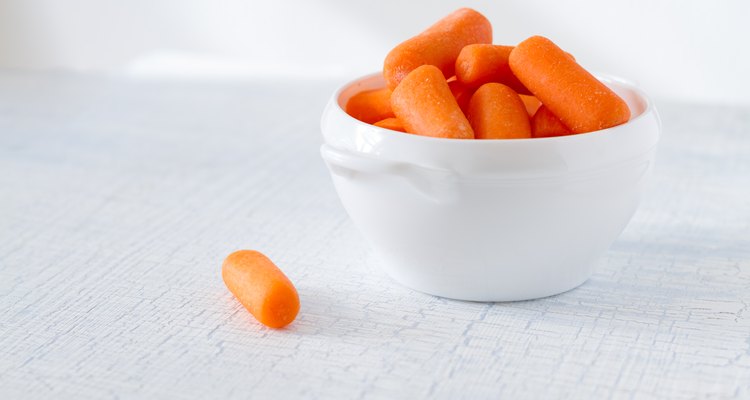 a_namenko/iStock/GettyImages
A Smoky Char Adds Interest to Sweet Baby Carrots
You can cook bagged baby carrots in the same ways you might cook peeled and cut regular carrots, by steaming, boiling, roasting or sauteing them. With their handy size and their pre-washed and peeled exteriors, the carrots save you time and energy in the kitchen on a busy weekday evening. In this recipe, the carrots cook long enough on each side to get a dark, caramelized coating and a black char around their edges. The bits of char add a slight bitter flavor to the dish that balances the carrots' natural sweetness.
Total Time: 20 minutes | Prep Time: 2 minutes | Serves: 4
2 cups baby carrots

1 tablespoon olive oil
1 tablespoon chopped fresh thyme, or 1 teaspoon dried leaves
1 teaspoon kosher salt
1/4 teaspoon black pepper
1 tablespoon fresh parsley, chopped
1 teaspoon red wine vinegar
Heat the oven to 425 degrees Fahrenheit.

On a large baking sheet and using two spoons or your hands, toss the carrots with the olive oil, thyme, salt and pepper, and arrange them in a single layer. Don't increase the oil because it will pool on the baking sheet and you won't get the dark color the recipe calls for.
Cook the carrots for 15 to 17 minutes, turning the carrots after 10 minutes to brown on another side.
In a serving bowl, using a large spoon, stir in the parsley and vinegar. Taste the carrots and stir in more salt and pepper if needed.
References
Writer Bio
Susan Lundman began writing about her love of cooking, ingredient choices, menu planning and healthy eating after working for 20 years on children's issues at a nonprofit organization. She has written about food online professionally for ten years on numerous websites, and has provided family and friends with homemade recipes and stories about culinary adventures. Lundman received her M.A. from Stanford University.