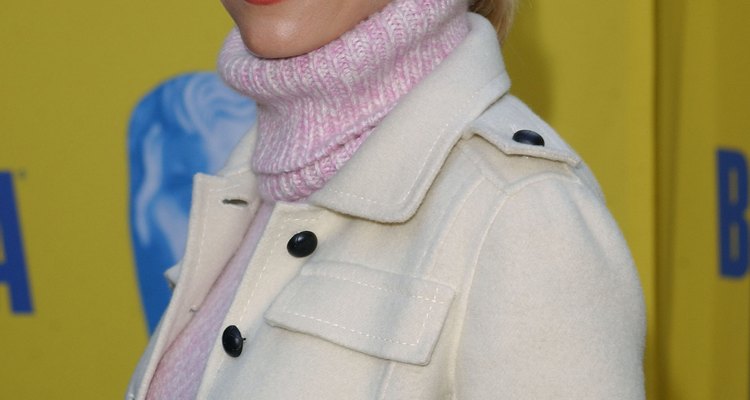 Amanda Edwards/Getty Images Entertainment/Getty Images
Pure wool protects against cold and looks beautiful -- but it may also cause itching, as a single fiber of wool is covered with coarse scales that prick and curl outwards. Wool can absorb 30 percent of its weight in moisture without feeling damp, which makes it ideal for winter coats. However, this characteristic may also trigger pain receptors in the skin to feel prickly and itchy. Fabric layers between the skin and wool fibers can prevent irritation to the neck.
Infinity Scarves
An infinity scarf makes a fashionable statement when worn under a wool coat. It is fashioned into a complete circle, pulled over the head and wrapped around the neck, protecting the skin from wool fibers. It need not be worn throughout the day and may be removed with the coat. Therefore, it doesn't need to match your clothing. Infinity scarves come in a variety of knits and materials to suit all tastes and budgets.
Silk Scarves
Silk scarves not only lighten the look of a heavy wool coat but act as a smooth barrier between the skin and coarse fibers. Silk's smooth and soft texture comforts sensitive skin. Silk is a breathable fabric with a natural temperature regulator that helps the body stay warm in cold weather. It is also hypoallergenic and has a natural ability to ward off environmental allergens such as dust mites, mold and fungus, which helps lessen asthma and other allergies.
Turtlenecks
Always in style, the classic turtleneck is versatile and can be dressed up or down. It wraps around the neck, protecting exposed skin from itchy fibers. Turtlenecks, a staple for chilly fall and winter days, are not only available on sweaters but on knit dresses as well.
Hoodies
For a casual urban look, a hoodie worn under a wool coat can prevent irritation to the neck. Hoodies, often made with soft flannel liners, provide warm layering, and have a full-zipper or button closure and a lined drawstring hood that can be pulled tight during cold winter days.
Merino Wool
Not all wool is created equal. Cheaper wool coat can irritate sensitive skin. Pure Merino wool has finer fibers that are more comfortable to the skin -- but that luxury comes with a higher price tag. High quality wool like Merino should not irritate skin, even when worn close to the neck.
References
Writer Bio
Katherine Marko has been a professional writer for more than five years. She has attended the University of Toronto for English. Her work has appeared in several online publications. Marko is also a licensed aesthetician with expertise in nutrition and beauty.
Photo Credits
Amanda Edwards/Getty Images Entertainment/Getty Images