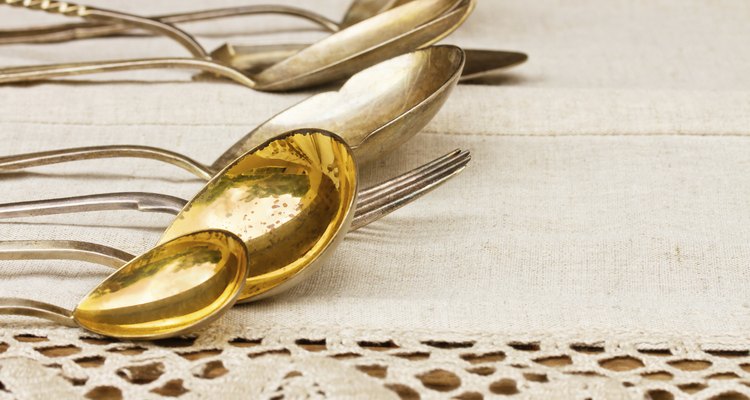 neirfy/iStock/Getty Images
The Dirilyte company began business as Dirigold. Dirilyte continues business but ceased making its golden-hued flatware in 1986. The flatware collection became popular in the early 20th century, boasting a few features that were new and exciting to many a hostess of the era. Dirilyte golden-hued flatware continues to finds a place on tables and in collections.
Gold Ore Not
Dirilyte golden-hued flatware is not plated and does not contain any gold. It gets it coloring from a solid-through bronze alloy. The company produced four standard golden-hued flatware patterns: Empress, Tuscany, Regal and Florentina. Dirilyte made flatware sets and various open-stock pieces, including jelly spoons, pickle forks and fish knives. The flatware is not dishwasher safe. In 1961, the company began using a bonded protectant on its flatware, holloware and table accessories. The protectant has a distinct sparkle and negates the need for polishing. Hand Industries, Inc. acquired the Dirilyte flatware business in 1972.
References
Resources
Writer Bio
Lorna Hordos is a home-flipping business owner and freelance writer. She writes friendly, conversational business, home and lifestyle articles for Bizfluent, azcentral, Daltile, Marazzi, Lowes, Philips Lighting, WordPress.com and numerous other publications.
Photo Credits
neirfy/iStock/Getty Images