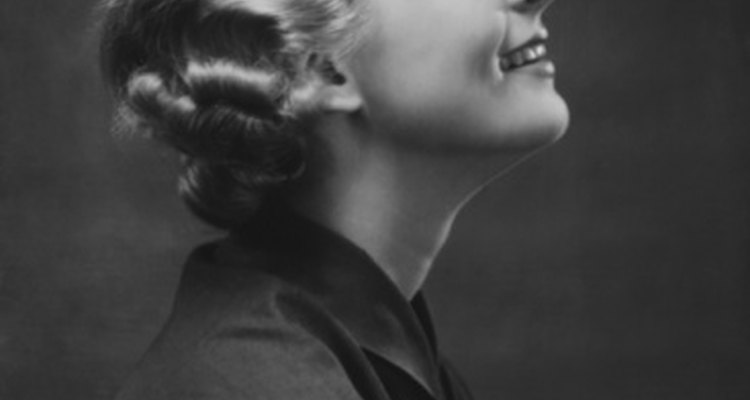 George Marks/Retrofile/Getty Images
Although long hair was very much in vogue in the 1940s, there were also some shorter haircuts seen on the women of the era. In order to capture the soft waves and curls popular at the time, even short haircuts in the 1940s were long enough to allow for the use of rollers or pin curls, so very short cuts were not common.
Overview of 1940's Hairstyles
Women's hair in the 1940s was very soft and feminine. Women used rollers and pins in order to create curls and waves in their hair. The resulting look was very smooth, with sleek waves and curls. On short haircuts, the sleekness was even more evident because there were fewer curls. Women usually wore their hair parted to one side, but the famous "Victory curl" used a center part.
1940s Short Cuts
Hair was usually cut no shorter than chin length, and usually all one length. This length allowed for the curls, which would pull the hair up and make it appear even shorter. Thus, even hairstyles that appeared very short were probably longer when straight.
Curling Short Hair
Short hair often did not leave enough room for the use of curlers, so women used pin curls instead. This simple method involved wrapping damp hair in small sections around a finger and pinning it in place with a bobby pin. Once the hair set, the pins would be removed, leaving soft curls.
Styling Short Hair
Short hair styles in the 1940s looked very similar to the longer styles. They were usually parted to the side with a cascade of waves coming down over the face on one side. An exception to this was the Victory curl, a style that created a V-shape at the front of the head with a center part and two upward curls. This style was difficult to achieve with shorter hair.
References
Photo Credits
George Marks/Retrofile/Getty Images