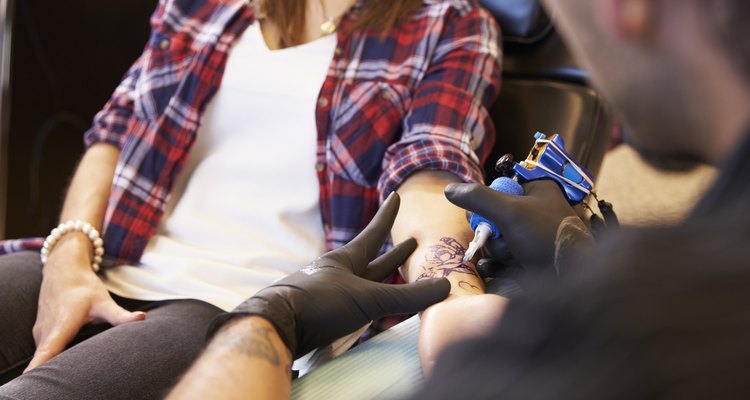 monkeybusinessimages/iStock/Getty Images
Most professional tattoo shops use dual coil tattoo machines because they are readily available and relatively inexpensive. They also provide smooth lines and shading. Although dual coil machines may be the standard, some tattoo artists prefer to use rotary tattoo machines instead. Rotary machines offer several advantages over dual coil machines that make them attractive to a growing number of tattoo artists, according to Erick Alayon, author of "The Craft of Tattooing."
Weight
According to C. R. Jordan, author of "Basic Fundamentals of Modern Tattoo," rotary tattoo machines are significantly lighter than comparable dual coil machines. This is because there are no electromagnetic copper-wound coils to weigh down the back end of the machine. The lighter weight means that a tattoo artist can work longer at a single sitting. It also means less finger and hand cramping, so artists will make fewer mistakes.
Noise
The electromagnetic switching of coil type tattoo machines generates a significant amount of noise, which can turn off first-time customers who are already hesitant about getting a tattoo. According to Erick Alayon, rotary style tattoo machines make far less noise, which creates the psychological perception that the tattoo will be less painful.
Versatility
A rotary tattoo machine can be used as either a liner or a shader, depending on the type of needle bar you select, says Alayon, This means that a tattoo artist can complete an entire tattoo, no matter how complex the design, using only one machine. By contrast, dual coil machines can be used as either a liner or a shader, but not both. The dual coil shaders have thicker barrels and heavier coils to produce the extra power needed to drive the ink into the skin. Dual coil liners have thinner barrels and lighter coils for extra comfort.
References
"The Craft of Tattooing"; Erick Alayon; 2007
"Basic Fundamentals of Modern Tattoo"; C.R. Jordan; 2009
Writer Bio
Owen Pearson is a freelance writer who began writing professionally in 2001, focusing on nutritional and health topics. After selling abstract art online for five years, Pearson published a nonfiction book detailing the process of building a successful online art business. Pearson obtained a bachelor's degree in art from the University of Rio Grande in 1997.
Photo Credits
monkeybusinessimages/iStock/Getty Images