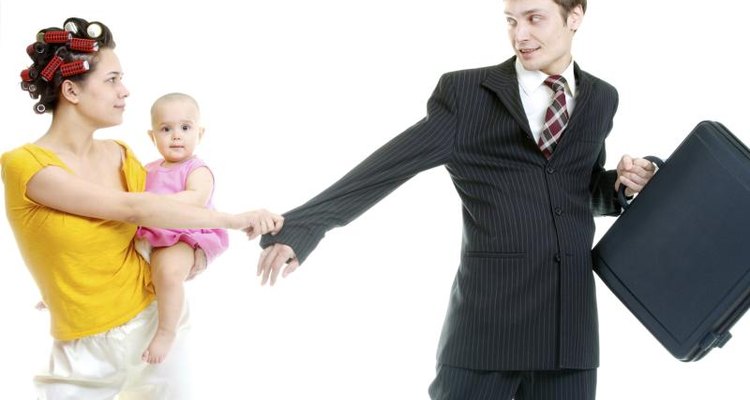 SergeyMikhailov/iStock/Getty Images
When you sit down with your husband to tell him you are unhappy, prepare for a potentially long conversation – you need to share your feelings and you need to hear your husband's perspective. Try to choose a time when you are unlikely to be interrupted by work, family or other obligations. While it's hard to predict how the conversation will go, it's a talk experts say should happen sooner than later.
Address Issues Immediately
It is important to address your unhappiness as soon as possible, according to licensed clinical psychologist Willard F. Harley, Jr., in the article "When Should You Tell Your Spouse, 'We Have a Problem,'" on the website, Marriage Builders. "Don't let your problems build up before you find solutions," he says. Easily resolvable issues can become major problems if you hide your feelings for too long. Although it is important to get your general message to your husband, before you talk to him think about what, specifically, is making you unhappy. For instance, if your husband expects you to be a stay-at-home mom but you would like to work, tell him. Using specifics will give you and your husband an idea of what steps to take to make you feel more satisfied.
Use "I" Statements
If your husband's behavior is the reason behind your unhappiness, talk about it in terms of how it affects you rather than placing blame. One effective way to do this is through "I" statements. For instance, you say to your husband, "I feel lonely when you stay out late every night." This may help your husband see things from your perspective. In contrast, if you say something like, "You're so selfish for staying out all the time," your husband may feel attacked and be less receptive to your concerns.
Talk About What Makes You Happy
In addition to focusing on what is making you unhappy, let your husband know what would make you feel better. For example, if you miss spending time with your girlfriends, tell your husband that a monthly girl's night out would make you happy. Likewise, letting your husband know what you need from him, such as thank yous, affection or time alone can give you a starting point to fix your unhappiness. You may need to take time to list the things you need to make yourself happy before talking to your husband, or you may find yourself stuck during the conversation.
Help Your Husband Help You
If you cannot identify any specific parts of your relationship that make you unhappy, you may be dealing with a larger problem. In such cases, it might be a good idea to involve a couple's counselor, suggests Jeanne Segal and Melinda Smith in their HelpGuide.org article "Relationship Help." If you are struggling with personal issues or with your mood in general – not just your marriage – let your husband know what you are experiencing. For example, frequent crying, insomnia or not enjoying the things that you used to may point to a broader issue. Once your husband understands how you're feeling, he may be able to help ease some of your daily burdens, as well as help you find a health care provider to help you deal with these issues.
References
Writer Bio
Anna Green has been published in the "Journal of Counselor Education and Supervision" and has been featured regularly in "Counseling News and Notes," Keys Weekly newspapers, "Travel Host Magazine" and "Travel South." After earning degrees in political science and English, she attended law school, then earned her master's of science in mental health counseling. She is the founder of a nonprofit mental health group and personal coaching service.
Photo Credits
SergeyMikhailov/iStock/Getty Images