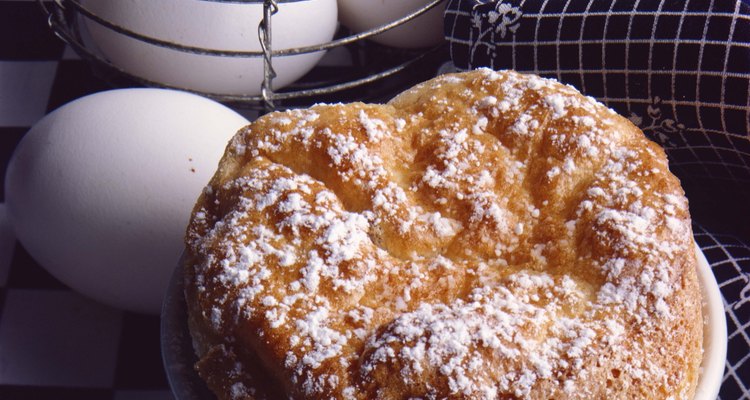 Jupiterimages/Comstock/Getty Images
Souffles turn a lot of cooks off, but once you've mastered these puffy, delicate delights, you might find yourself altering the recipe to suit your taste. While a classic souffle is cooked in a ramekin, it doesn't have to be. Many other types of equipment work just fine. There's no need for a special pan or dish as long as you prepare the souffle correctly.
Mugs or Teacups
Oven-safe coffee mugs or teacups can be used for a souffle. Choose a medium to short cup that is made from ceramic. Grease the cup as you would a ramekin. Avoid tall mugs, because the souffle needs to rise above the rim. A tall cup leaves more room for error and deflated souffles.
Oven-Safe Bowls
If you have an oven-safe, ceramic mixing bowl you can use it to make a souffle. Use a bowl if you want to make a larger souffle to serve several people. Prepare the bowl the same way you would the ramekin. You can use any heat-proof, oven-safe bowl to make a souffle, even if it isn't ceramic. Decorative bowls that are oven-safe can be used, too.
Ceramic Baking or Casserole Dish
Casserole dishes work well for souffles because they're shallow and typically made from ceramic. Stick to smaller casserole dishes, around 6 to 8 inches in diameter. The larger the baking or casserole dish, the more surface area you'll have and it might be difficult for your souffle to rise properly in the oven.
Crème Brulee Cups
creme brulee cups look like ramekins, but they're shallower and sometimes oval. A creme brulee cup works best for an appetizer-sized souffle because it doesn't hold as much volume as a traditional ramekin. Prepare your creme brulee cups the same way as you'd prepare ramekins. Creme brulee cups don't need to be made from ceramic, but they must be oven-safe.
Considerations
A ramekin's straight sides allow the souffle batter to rise up and puff into its classic shape. Ramekins are easy to serve and are more attractive at the dining table than a metal pan. Souffles are meant to be eaten as soon as they come out of the oven, so you'll want a dish that can be placed on the table and eaten from right away. If you don't have a suitable ceramic dish, a spring-form pan will work, but the metal pan may give the souffle a slightly metallic taste.
References
Writer Bio
Shailynn Krow began writing professionally in 2002. She has contributed articles on food, weddings, travel, human resources/management and parenting to numerous online and offline publications. Krow holds a Bachelor of Science in psychology from the University of California, Los Angeles and an Associate of Science in pastry arts from the International Culinary Institute of America.
Photo Credits
Jupiterimages/Comstock/Getty Images