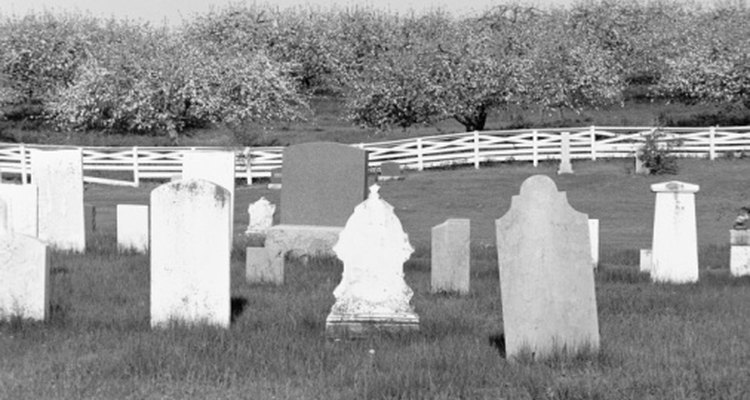 Photos.com/AbleStock.com/Getty Images
A person's privacy interests do not extend to his own date of death, and therefore death certificates are not often confidential. But if you don't have a death certificate, you may be wondering how to find the date of death for someone without having to pay for it. There are several good free options for locating this information, including searching for an obituary, looking for probate records and using the Social Security Death Index. The one that's right for you depends upon how much information you have about the person and how long ago he died.
How Do I Find a Date of Death?
The best answer to this question depends entirely on whose death date you're inquiring about, how much you know about that person and how long ago the death occurred. Obviously, to find the death of a famous person who died, like George Washington or Marilyn Monroe, the internet is invaluable. You should be able to search and get your answer in less time than it takes to say "date of death" three times.
On the other hand, that may not work if you want to find the date of death for someone who wasn't famous and who was unlikely to have a Wikipedia page dedicated to his life. If the person you're investigating was alive in your own lifetime and you know where he died and have an idea of the year of death, searching for obituaries is a viable, free option. If any newspapers from the town in which the person died have online archives, you may be able to run a free search from the privacy of your own office. Otherwise, you can go to the library and review back issues of the paper to look for a death notice.
Other Options for Finding the Date of Death
Checking probate records is another good idea. If you know where the deceased individual died and the approximate year, you can check the probate files in the court in that county. Many probate documents are searchable online. Or, if the court is close to where you live, just go over during business hours. The probate file is almost certain to contain the death certificate, and the documents will refer to the date of death.
If the deceased individual died a long time ago and you aren't sure where, you still have options. Check the Social Security Death Index (SSDI). This searchable database was pulled together by the Social Security Administration. It's basically a list of all persons with Social Security numbers who were reported dead between 1935 and 2014. In 2014, the law changed to require a three-year delay before death info is released. The types of information available include name, Social Security number, date of birth and date of death. While it does not include every single person who died during this period, the SSDI is basically a national death index for the United States.
You can access the SSDI for free with online search engines offered by Genealogy Bank and Family Search. Ancestry.com also offers a search engine but you have to be a member to use it.
References
Resources
Writer Bio
With a Master's in English, a Master of Fine Arts in Creative Writing, and J.D. from U.C. Berkeley's law school, Teo Spengler is up on education. She splits her home time between San Francisco and France. A perpetual student and frequent teacher, she is also a writer and world traveler. Her work has appeared in numerous online publications including USA Today, Legal Zoom, eHow Business, Livestrong, SF Gate, Arizona Central, Fairmont Houston Chronicle, Navy Federal Credit Union, Pearson, Quicken.com, TurboTax.com, and numerous attorney websites.
Photo Credits
Photos.com/AbleStock.com/Getty Images