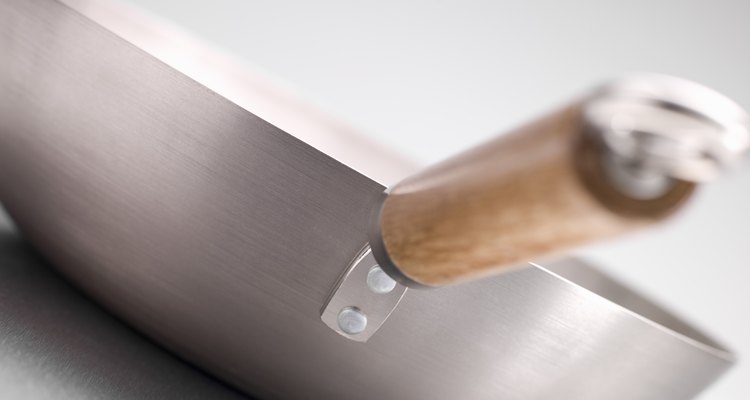 BananaStock/BananaStock/Getty Images
Skillet suppers were created for families on the go. The recipe calls for one pan, a few simple ingredients and goes from the stove top to the oven to the table, generally in less than an hour. The problem with those fantastic skillet recipes is no one ever tells you which skillets are oven safe and which to avoid.
Cast Iron Skillets
Cast iron skillets are used on open fires, stove tops and in the oven. Some people swear the best cornbread is started on the stove in a cast iron skillet and baked in the oven. Cast iron does well under the broiler, as well. Some cast iron skillets have wooden handles that are not safe for the high temperatures of your oven and broiler. Use enameled cast iron to avoid a reaction to high-acid recipes such as tomato sauces. To remove a cast iron skillet from the oven, you can purchase skillet handle mitts that slide onto the handle for easy removal or invest in a good quality oven mitt.
Stainless Steel Skillets
Stainless steel skillets from manufacturers such as All-Clad and Emerilware are oven-safe to temperatures of 500 degrees Fahrenheit. The pans can also go under the broiler. For stainless steel pans with a nonstick coating, the oven temperature can be no higher than 450 degrees Fahrenheit. The nonstick coating is not safe under the broiler as the heat causes the coating to break down. This can cause the surface to chip and peel.
Porcelain and Ceramic Enamel Skillets
The Rachel Ray collection of porcelain enamel skillets are oven-safe to temperatures of 400 degrees Fahrenheit. The skillets also have a silicon handle that is also oven-safe. Another choice of oven-safe skillets comes from Ceramcor's Extrema Cookware product line, which are ceramic enamel. Both manufacturers offer nonstick interiors. The company states the Extrema Cookware line can withstand temperatures up to 2700 degrees Fahrenheit. The company also cautions about using the products on a glass-top stove.
Aluminum Cookware
The old aluminum skillets that leached metals into your foods are not oven-safe. Manufacturers such as Calphalon now offer anodized aluminum skillets that are safe to use in the oven and under the broiler. The specially designed handles remain cool when cooking on the stove-top but do become dangerously hot when in the oven. Use oven mitts to remove the skillets.
References
Writer Bio
Julie Richards is a freelance writer from Ohio. She has been writing poetry and short stories for over 30 years, and published a variety of e-books and articles on gardening, small business and farming. She is currently enrolled at Kent State University completing her bachelor's degree in English.
Photo Credits
BananaStock/BananaStock/Getty Images