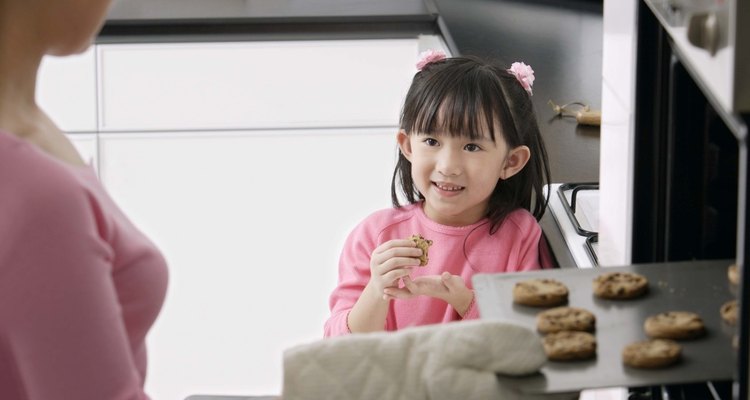 Jupiterimages/Goodshoot/Getty Images
Inexpensive and durable, perforated metal baking trays can be hard to find. They're usually round because they're most often used to bake pizza. Depending on your budget and goals, a baking stone is your best bet for a substitute, but you probably have bakeware in your cupboard that will work in a pinch.
About the Holes
Perforated metal baking trays or pans have holes in the bottoms, ranging in size from less than 1/8 to 1/4 inch in diameter. The holes allow steam to escape so baked goods brown and cook evenly. The most common use for a perforated baking pan is making pizza. Pizzas laden with toppings don't always brown well and end up with a soggy crust. The perforated pans eliminate this problem, leading to a crisp pizza crust and well-cooked toppings.
The Best Solution
A baking stone most closely mimics the benefits of a perforated baking tray and adds a few additional perks of its own. Baking stones are made from natural clay that's been fired at high temperatures. The stones are fully fireproof and retain and radiate heat. When placed in an oven, they offer several advantages. A preheated baking stone gives yeast breads an extra dose of high heat during the initial minutes of baking needed to ensure a well-risen loaf. Because baking stones are porous, they absorb moisture from baked goods and pizzas so crusts stay crisp without becoming dry. Baking stones also help regulate heat so baked goods cook more evenly.
Budget-Friendly Options
Baking stones are relatively expensive compared to other baking equipment, but they'll last forever. You can find less expensive substitutes, too. Standard jelly roll pans and cookie sheets work in a pinch. Choose aluminum pans, which hold heat evenly and cool down quickly after baking. Use rimless cookie sheets for baking pizza and cookies evenly. Some pans are coated with stainless steel, but make sure the pans have an aluminum core. Stainless steel is durable and it cleans more easily than aluminum, but it doesn't conduct heat well.
Other Alternatives
In a tie for third place options are silicone and nonstick baking sheets. Both have advantages and drawbacks. Silicone baking trays are easy to wash and take up less room in storage because they're flexible. Baked goods slide out of them with almost no effort. But silicone baking trays are expensive and you must place another baking sheet underneath them to form a rigid surface. Nonstick baking trays are inexpensive and sold everywhere. If they're dark, though, food cooks faster and may dry out or burn if you're not vigilant. Nonstick pans aren't completely reliable. You must usually spray them with a nonstick spray or grease them. It's easy to damage the nonstick surface with a metal spatula or knife.
References
The Art & Soul of Baking; Cindy Mushet
Writer Bio
Julie Christensen is a food writer, caterer, and mom-chef. She's the creator of MarmaladeMom.org, dedicated to family fun and delicious food, and released a book titled "More Than Pot Roast: Fast, Fresh Slow Cooker Recipes."
Photo Credits
Jupiterimages/Goodshoot/Getty Images