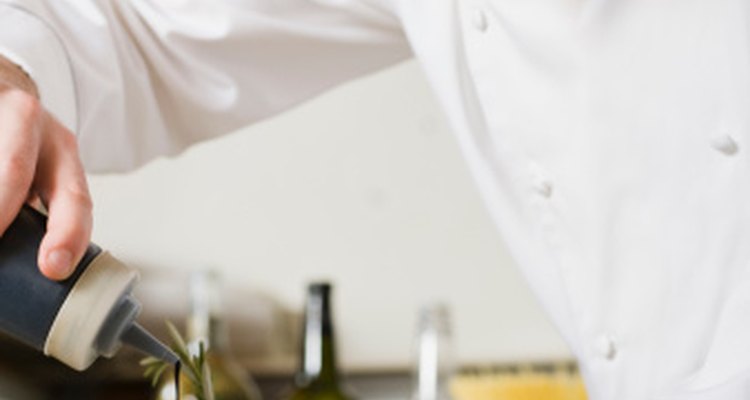 Jupiterimages/Comstock/Getty Images
Tools of the Trade brand-name cookware retails at Macy's department stores (macys.com), and features a wide variety of cooking implements. This includes pots, pans, utensils, cutlery, griddles and various other pieces of cookware. These come in a number of shapes and sizes to suit different cooking tasks, and their manufacture includes several materials.
Stainless Steel
Many of the cookware sets include pieces manufactured of stainless steel. This material commonly is featured in cookware design, because of its attractive appearance, hygienic properties and ease of care. Tools of the Trade utensils made in stainless steel include pots and pans, with the material forming the body of the cookware. Other pieces produced in stainless steel include utensil sets, cutlery sets, mixing bowls and storage canisters.
Anodized Aluminum
Pot and pan sets can have aluminum bodies. The Cookright Hard Anodized 12-Piece Cookware Set has cooking implements made of this material. The various pieces in the set feature hard anodized aluminum exteriors, with the interiors produced with a non-stick coating. This design provides the food with quick, even heat during cooking. It also prevents the food from sticking to the surface, and makes the cookware easier to clean. A pizza crisper and griddle also feature a hard anodized aluminum design.
Glass
Many of the pots have a fitted lid, which can cover food while it cooks. Glass is used to manufacture the lids, which has practical benefits. It enables a chef to see into a pot without having to remove the lid, and this makes it easier to monitor the food as it cooks.
Silicone
Tools of the Trade cookware uses silicone in the production of the the handles for many of the pots and pans. This includes the handle on the cookware itself, as well as the handle on the lid. Silicone remains cool, even as the cookware heats up, and this ensures a pot or pan can be comfortably lifted from the heat as required during cooking.
Nylon
Pots and pans with a non-stick coating can suffer damage if used with metal utensils. Tools of the Trade therefore has cooking utensil sets produced in nylon. Sets are available on their own, which include a variety of different utensils. However, in some cases nylon utensils are included with the hard anodized aluminum cookware sets.
References
Writer Bio
Ian Farquharson has worked as a freelance writer since 2008. He has written for individual clients, as well as various online publications, and brings sports and travel expertise to eHow. He has a Bachelor of Engineering in civil engineering from Dundee College of Technology.
Photo Credits
Jupiterimages/Comstock/Getty Images