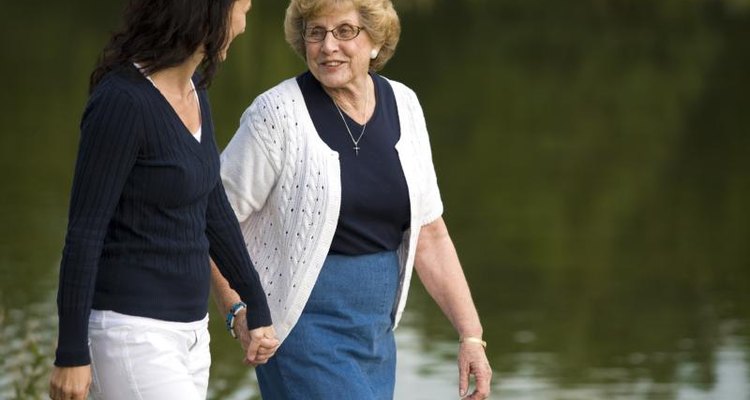 Design Pics/Design Pics/Getty Images
Taking responsibility for yourself and your actions is a big step towards maturity and an important part of personal growth. By realizing that who you are as a person and what you achieve in life is entirely in your own power, you will develop characteristics that will lead to success in life. It's never too late to start practicing the positive habit of accepting responsibility for yourself. No matter how old you are or where you are in life, you can easily begin today.
Boost Your Confidence
If you find yourself frequently blaming other people or extenuating circumstances for the things that are or aren't happening in your life, take some time to figure out the reasons for your behavior. After you identify your motives, devote your energy to working on gaining confidence, suggests psychologist and TV personality Dr. Phil, in the article "Take Responsibility for Your Life," published on his website. Spend some time thinking about your strengths and how to use them. If you can't think of any, ask loved ones to help. You can also write down your goals and create a plan for achieving them, and learn to accept positive feedback instead of deflecting it.
Eliminate the Excuses
Excuse-making is a negative form of avoidance behavior. Each time you make an excuse for yourself, you're refusing to take any personal responsibility. However, this harmful habit can be broken by simply practicing. Be sure you're acknowledging what really happened, both to yourself and to others, urges UK-based youth empowerment organization Respect Yourself. Next time you are directly involved in the negative outcome of a situation, ensure you say something like, "Sorry, I messed up." Respect Yourself suggests following that sentence up with, "How can I make it up to you?" Don't worry -- your integrity will earn you the respect of other people.
Change Your Thought Patterns
People who victimize themselves often believe that not only do the rules not apply to them, but that they're not responsible for themselves precisely because they are victims. If you often see yourself as a powerless pawn of fate, this might be because you feel ineffective and overwhelmed by your own life, writes psychologist and Psychology Today contributor Robert W. Firestone in the article "How to Stop Playing the Victim Game." In turn, these feelings are being reinforced by the way you communicate with yourself and others. He suggests being on the lookout for passive, self-destructive thoughts like, "Why is this happening to me?" and dropping words like "fair," "should" and "right/wrong" from your vocabulary. By changing your communication habits, you'll learn to take responsibility for yourself and your actions.
Adopt Positive Behaviors
Or, as Dr. Phil puts it, "Behave your way to success." Be the positive changes you want to see in your life. Fear and insecurity, Dr. Phil warns, will only manifest themselves in a negative future. If you're harboring guilt or anger over something that happened in the past, allow yourself to be absolved of those feelings. If you want your family and friends to show more interest in your life, get interested in theirs. If you want a more satisfying career, figure out what you'd need to do to achieve your professional goals. Your behavior will affect what you get out of life, so make sure you're acting in a way that you get what you want.
References
Writer Bio
A New York native, Carrie Stemke is an avid writer, editor and traveler whose work has covered many different topics. She has had a lifelong fascination with and love of psychology, and hold's a bachelor's degree in the subject. Her psychology research articles have been published in Personality and Individual Differences and in Modern Psychological Studies.
Photo Credits
Design Pics/Design Pics/Getty Images