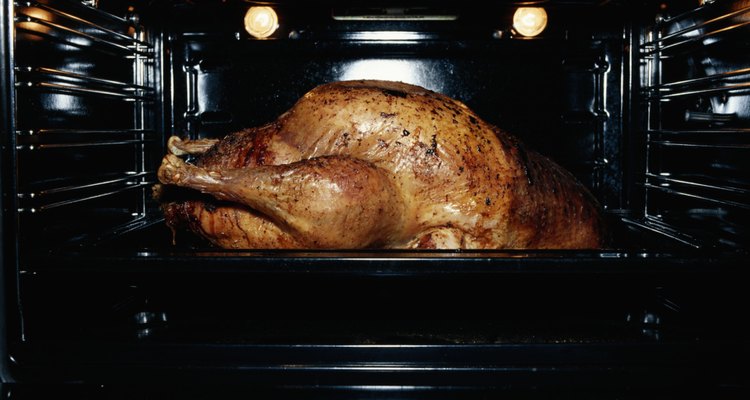 David De Lossy/Photodisc/Getty Images
If you've ever been disappointed by a lackluster marinated chicken, rest assured that it isn't your fault. It's actually nearly impossible to penetrate the fatty skin of a whole chicken just by soaking it in a marinade, which means that the meat absorbs little or no extra flavor. If you really want to flavor your bird, a marinade injector may be your new favorite kitchen gadget. No matter how you choose to cook the chicken -- in the oven or on the grill -- you'll be able to serve a succulent meal with minimal fuss.
Step 1
Prepare your marinade. You can use a pre-made marinade, or make your own. For example, you could combine olive oil or butter, white wine, chopped onions, garlic, lemon juice and finely chopped parsley. If you'd rather something spicier, mix lime juice, apple juice, vegetable oil, minced garlic, chili powder and hot pepper sauce.
Step 2
Pat the chicken dry with a paper towel, if necessary, and either truss it or tuck the chicken's wings under the back and tie the legs together with cotton string to help the chicken cook evenly. Place the whole chicken in a baking pan.
Step 3
Wash and assemble your marinade injector, or a bulb-baster fitted with an injection attachment, before oiling the needle so that it slides effortlessly into the chicken. Then fill the injector tube with your marinade.
Step 4
Space your injections evenly around the chicken, injecting roughly 1 tablespoon of marinade in the meatiest parts of the chicken, including the legs, thighs and breast. To inject it, insert the needle into the meat and slowly push the plunger while you pull the needle out of the chicken. Refill the injector as necessary.
Step 5
Rub the outside of the chicken with butter, olive oil or cooking oil. Season with salt and pepper, or your favorite seasonings, and cook the chicken until a meat thermometer inserted in the meatiest part of the thigh reads 180 degrees.
References
Tips
Puree chunky marinades before you fill your marinade injector to avoid clogging up the syringe.
Achieve similar results even without an injector by stabbing the chicken with a small sharp knife, placing the cuts evenly around the bird before placing the chicken in a large bowl or bag filled with the marinade. Use your hands to work the marinade into the holes.
Writer Bio
Caryn Anderson combines extensive behind-the-scenes writing experience with her passion for all things food, fashion, garden and travel. Bitten by the travel bug at the age of 15 after a trip to Europe, Anderson fostered her love of style and fashion while living in New York City and earning her degree at New York University.
Photo Credits
David De Lossy/Photodisc/Getty Images