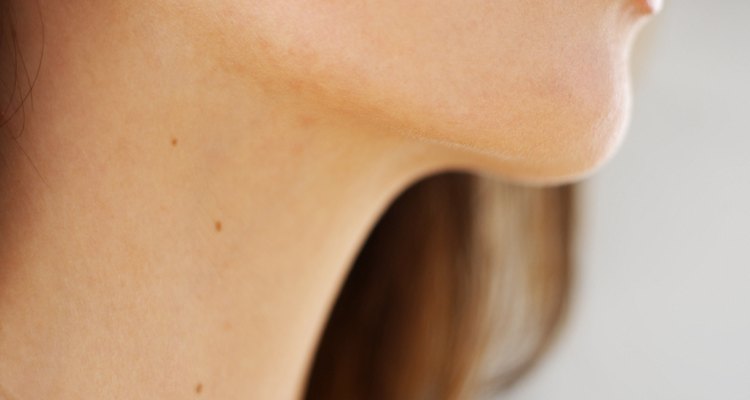 Stockbyte/Stockbyte/Getty Images
Intriguingly dubbed the "lunchtime face lift," microdermabrasion or "the power peel," promises the results of a more aggressive facial procedure without the unsightly, flaky red skin, high price tag or downtime. Know the facts about this exfoliation process, which may be performed professionally or at home, and whether you and your neck can benefit from microdermabrasion.
About Microdermabrasion
Microdermabrasion is a skin-resurfacing process that utilizes fine crystals to exfoliate the superficial layers of the skin and is used to treat dull skin, fine lines, discoloration and age spots and mild acne scars. Professional microdermabrasion is performed by a dermatologist or trained medical professional and uses a wand to deliver a stream of fine aluminum oxide crystals or purified salts which are immediately vacuumed with gentle suction. Several treatments over the course of several months and occasional maintenance sessions may be recommended. The average cost for professional microdermabrasion is about $100 to $250 per session, as of 2013. Microdermabrasion done at home involves either a scrub or a paste that contains aluminum oxide crystals and sometimes involves a battery-operated brush or sponge. At-home treatments run between $30 and $130.
Microdermabrasion on the Neck
Microdermabrasion can safely and effectively be performed on the neck, as well as the face, hands, chest, knees and elbows. More aggressive treatments such as chemical peels and laser resurfacing that work well on the face may not be as safe and effective on other areas, such as the neck and chest. Microdermabrasion is also less expensive than laser resurfacing and chemical peels, which can cost up to $2,500.
Benefits of Microdermabrasion
Microdermabrasion gives immediate results, with smoother skin, a healthy glow and the promotion of cell turnover and collagen growth. The procedure can be done quickly, with an average session lasting about 30 minutes, and is relatively painless. One of the main benefits of microdermabrasion is that there is no recovery time and you can return to your normal activities immediately after each session, therefore earning the moniker the "lunchtime face lift." Skin may feel tighter after the treatment, and slight flushing or redness and dryness may occur for several hours.
Microdermabrasion Results
Professional microdermabrasion is proven to be effective and offer results for those seeking improvement for minor imperfections, such as fine lines, uneven skin tone, dull skin, oily skin, small areas of discoloration and minor acne scars, reports Southern California dermatologist Amber Kyle. Those with deeper wrinkles and more serious scars and age spots would benefit from a deeper treatment, such as a chemical peel or laser resurfacing. Most patients who have professional microdermabrasion experience an improvement in skin texture, skin tone and color and had healthier, younger-looking skin. Microdermabrasion may irritate sensitive skin and should be avoided if you have rosacea or redness of the skin. Repeated treatments can cause broken blood vessels. At-home treatments are inexpensive and offer deeper exfoliation than regular scrubs. The coarser formulation and friction from a brush may irritate sensitive skin, causing redness or even scarring in darker skin tones, and shouldn't be used more than once a week.
References
Writer Bio
Hilary White is a professional writer and editor based in San Diego. White has been writing articles on fashion, style, fitness, nutrition, movies and entertainment since 1994. Her articles have been published in "Westways" magazine, "Pages" magazine, "Book Street USA," "Magill's Cinema Annual," and numerous titles from Visible Ink Press. White holds a bachelor's degree in English from Michigan State University.
Photo Credits
Stockbyte/Stockbyte/Getty Images