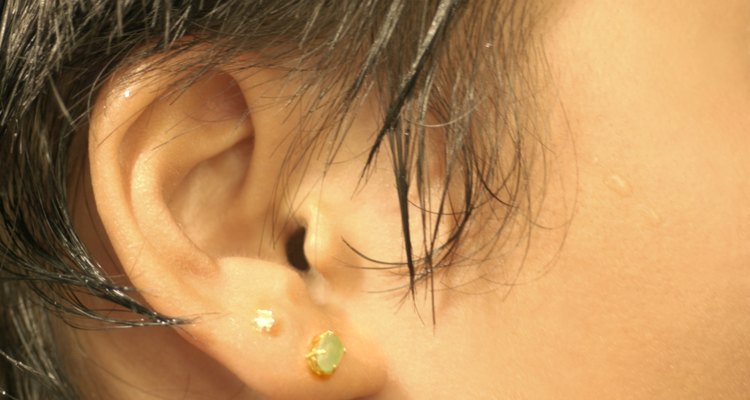 Thinkstock/Comstock/Getty Images
When you have your ears pierced, the piercing professional uses a piercing gun to shoot the earring posts through your ears. The stud posts are sightly thicker than those of standard earrings to open the hole a little wider to ensure that it stays permanently open. The post backing fits over the post very snugly to make sure the studs don't accidentally fall out. Because of the thick posts and the snug backing, taking out the stud earrings the first time can be a bit difficult.
Pour about 1 tbsp. of rubbing alcohol onto a cotton ball.
Wipe your ear lobe with the rubbing alcohol to clean it thoroughly. Wait a few seconds for the alcohol to dry.
Twist the stud using your thumb and forefinger. This will help to loosen the post in your ear and break off any scabs that may have formed inside the ear hole.
Grasp onto the backing with one hand -- again, using your thumb and forefinger -- while your other fingers are still pinching the stud.
Twist the stud while holding the backing firmly. This will help to loosen the backing.
Pull forward on the stud while still holding the backing firmly. Although it takes more effort than removing a normal earring, the post will slide right out of the backing. Gently and slowly, remove the post from your ear. Repeat these steps to remove the other earring.
Clean off the post of a new earring with the rubbing alcohol, then insert the new post into your ear. You can simply throw away your starter stud earrings once removed.
References
Writer Bio
Andrea Griffith has been writing professionally since 2005. Her work has been published by the "Western Herald," Detroit WDIV, USAToday and other print, broadcast and online publications. Although she writes about a wide range of topics, her areas of expertise include fashion, beauty, technology and education. She holds a Bachelor of Arts in journalism and English from Western Michigan University.
Photo Credits
Thinkstock/Comstock/Getty Images