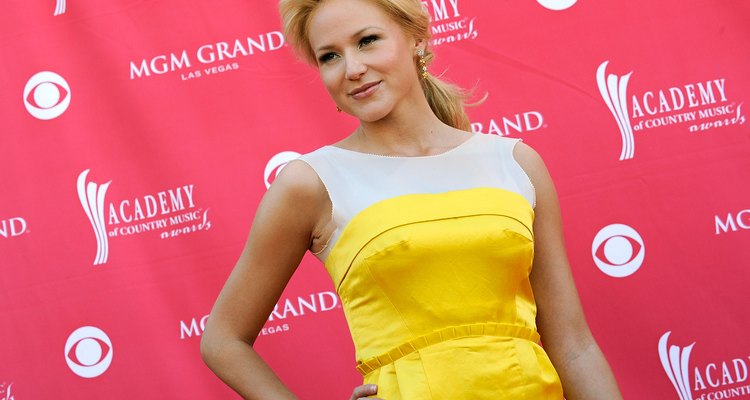 Charley Gallay/Getty Images Entertainment/Getty Images
Lotion stains on your expensive satin home furnishings, comfortable satin bedding or sophisticated satin clothing require a safe method to remove the creamy grooming product without damaging the fabric. If your bed sheets or satin nightgowns have synthetic fibers, you do not need to take this luxurious and sumptuous material to the dry cleaners. With a step-by-step cleaning system, you can restore the beauty of your favorite satin fabrics gently, easily and at home.
Satin Clothing
Lay the article of clothing on a flat surface. Remove the lotion from the satin fabric with a metal tablespoon. Scrape the spoon against the fibers to remove any lotion residue.
Pour a pre-treating stain remover over the stain. Cover the entire stain with the solution. If you do not have a pre-treater, soak the fabric with a heavy-duty liquid detergent.
Wash your wardrobe item using warm water and a permanent press washing cycle. To prevent shrinkage, do not tumble the item in the dryer. Hang it to dry in a well-ventilated and cool area or lay it flat on a white towel instead.
Satin Upholstery and Home Furnishings
Check the fabric label for care and cleaning suggestions. If the fabric label says "W," use water-based cleansers; "S" on the label calls for waterless or dry-cleaning solvents; a "WS" label indicates using water- or solvent-based cleaners; and if you see an "X" on the label, use a professional dry cleaning treatment.
Scrape the lotion off the fabric using a dull knife or a metal spatula. Cover the lotion stain with cornstarch or baking soda. Let the absorbent particles remain on the satin for a minimum of 10 to 15 minutes. Remove the powdery substances with a vacuum cleaner featuring a hose attachment.
Dab the stained satin with the appropriate solution for the fabric type. Sponge the stain using a dime-size amount of dry-cleaning solvent and a white cloth for "S" or "WS" fabric labels. Use a dime-size amount of water-based upholstery cleaner and a white cloth to clean "W" labeled satin fabrics.
Blot and press the stain with the white cloth until you remove the lotion residue from the fabric completely. Let the item dry in a cool, well-ventilated area for 24 hours.
References
Writer Bio
Mimi Abney is a lifestyle writer specializing in online content for women. Her work has appeared in NewsOK.com and "Keepsake Magazine," among other publications. With over 15 years of writing and editing experience for the web and print, Abney is also a contributor to online health, beauty and fashion publications. She holds a Bachelor of Science in biology from Spelman College.
Photo Credits
Charley Gallay/Getty Images Entertainment/Getty Images