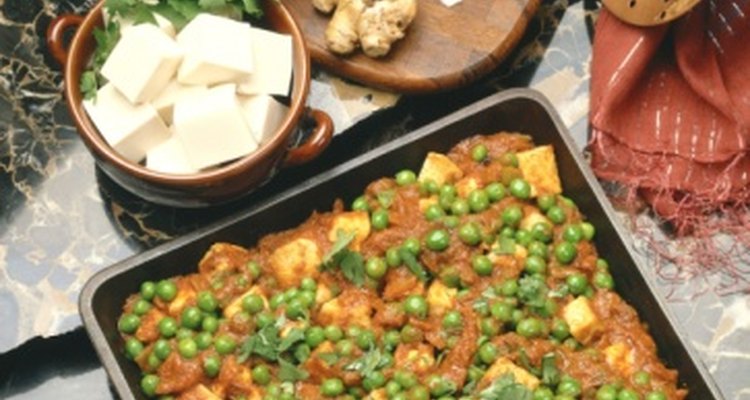 Jupiterimages/Photos.com/Getty Images
Cooking with your NuWave oven will seem like a novelty at first, but you will quickly adapt to its simplicity of use and shorter cooking times. While NuWave ovens can be used to cook whole turkeys, roasts and other large pieces of meat, vegetarians, too, are able to cook all sorts of dishes quickly and conveniently. You can use any accessories that you would ordinarily use in a regular oven. To broil, bake, or roast vegetables, you will make small adjustments, such as changing the food's proximity to the heating element.
Make individual vegetable side dishes or vegetarian appetizers that are sauteed, steamed or baked. Steam vegetables by placing broccoli spears, slivers of red pepper and onion in aluminum foil and adding a sprinkling of water, plus seasoning. Wad up the foil on top to form a lightly enclosed purse and place on a 1 inch rack to steam for around 10 minutes. For a party onion dip, mix 2 cups each of large diced onion, mayonnaise and Parmesan cheese and level until smooth into a 10-inch baking dish. Place the dish on the 1-inch rack and cook on high heat for 15 minutes until bubbling.
Prepare vegetarian casseroles in your NuWave Oven, such as Mexican rice casserole with chilis and cheese, or a broccoli cheese casserole. Any oven-safe casserole dish would work. For the Mexican rice casserole, combine 4 cups of cooked rice with 1/2 cup each of Monterey Jack cheese and chopped cilantro, a small can of green chilis and four chopped green onions in a bowl. In a separate bowl, mix 1 cup of sour cream with spices like cumin and add it to the rice mixture. Place in a 8-inch-by-8-inch baking dish on a 1-inch rack and cook uncovered on high for 20 minutes.
Roast vegetables in your NuWave Oven with minimal preparation by taking a large bowl and throwing all the ingredients together to thoroughly combine them. Use 1 lb. of cauliflower florets, 8 minced garlic cloves, 1 cup of unpitted green olives, a can of chickpeas and condiments like crushed red pepper and olive oil. Place on a liner pan and roast on high for 20 minutes.
Prepare and grill bean burgers on your NuWave oven by placing them on a 4-inch rack, which will be closer to the heating element. Prepare the bean burgers by mashing a can of pinto or red kidney beans with 1/4 lb. of chopped mushrooms, a chopped onion, garlic and seasonings. Shape the mixture into four patties and brush the tops with oil before placing on the rack. Set the power to high. Flip to cook the other side after six minutes. Cook the other side for the same amount of time.
References
Resources
Tips
Place the food farther from the heating element to roast it. Broiling requires the food to be closer. "Air fry" a vegetable by coating the food in a wet mixture and rolling it in bread crumbs. Dehydrate a vegetable by setting the power to low and removing it immediately when done.
Writer Bio
Timothea Xi has been writing business and finance articles since 2013. She has worked as an alternative investment adviser in Miami, specializing in managed futures. Xi has also worked as a stockbroker in New York City.
Photo Credits
Jupiterimages/Photos.com/Getty Images