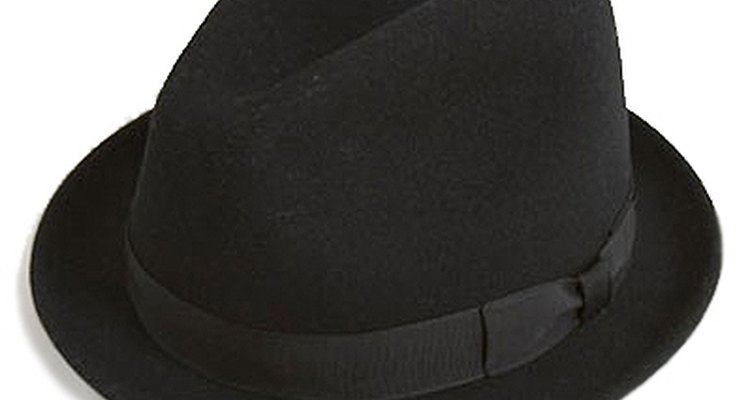 universalarticle.com
Many people like fedoras for their unique shape, classic look and vintage appeal. Fortunately, there are many options available on the market when it comes to purchasing a fedora. From vintage models to the latest fashions, designer brands to flea market finds, fedoras seem to be everywhere nowadays, as they are so accessible to everyone. Though it may be easy to buy a fedora, keeping the hat clean and preserving its shape are another story. So be sure to be gentle with this delicate hat, and follow up on routine maintenance and cleaning.
Remove lint, fuzz, hair and other debris with a lint remover. If possible, try to purchase one that is flexible and not on a roller, as the roller may damage the fedora's shape.
Brush the fedora with a hat brush regularly to prevent debris build-up. Buy a light-colored brush for light-colored hats and a dark-colored brush for dark-colored hats. If you cannot find a hat brush you can use a soft-bristeled hairbrush as a substitute, just be sure the bristles are not too stiff. Depending on how you store your hat or how much you wear it, you may want to brush your hat once every week if it's stored for long periods of time or every time you take it off for the day. Begin on the left side of your fedora and brush counter-clockwise.
Apply a little baby shampoo or other form of mild cleanser to any areas of your fedora that have a set-in stain. Gently work a little water and the baby shampoo into the affected area with a cotton swab. Allow the hat to air dry. Never place your fedora in a dryer or outside to dry, as these may cause your hat to change color or shape.
Use steam from a steam iron or kettle to loosen up any really tough stains. Apply the steam to the affected area for a short period of time and then try to break up and remove any stains by working your hat brush into the affected area. Be careful not to get too much steam on the fedora, as the steam's moisture can cause the hat to lose its shape.
Pick up the fedora by the front of back of its brim when you are handling it, this will keep the hat's shape the most in tact. For added support, you can place one hand on the front and the other on the back. Never pick a fedora up by the pinch, as it may misshape this area of the hat.
Prevent yourself from handling the hat often, as your finger oils can soil the hat, as well as cause it to change shape.
Store the fedora in a hat box in a cool, dry place. Be sure to not place too much weight on top of the hat box, as that may cause the box to buckle, thereby damaging the fedora's shape.
Writer Bio
Nellie Day is a freelance writer based out of Hermosa Beach, Calif. Her work can regularly be seen on newsstands, where her specialties include weddings, real estate, food and wine, pets, electronics, architecture and design, business and travel. Day earned a master's degree in broadcast journalism from the University of Southern California.
Photo Credits