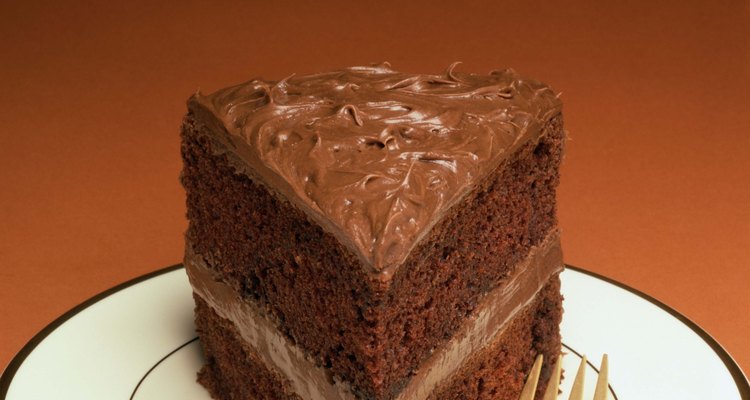 Jupiterimages/Comstock/Getty Images
No matter how experienced a baker you are, moving to a city at a higher elevation can require some adjustments. Your favorite pie and cookie recipes will usually work without change, but you'll probably need to tweak your breads and cakes. That can be problematic if your cake recipe consists of opening a box and mixing it according to the directions. However, even cake mixes can be adjusted to work at altitude.
The Effect of Altitude
Altitude has several interrelated effects that can dramatically affect your baking. First, the dry air at high elevations tends to make things dry out quickly. Second, the boiling point of water is lower at altitude, which means that moisture will tend to bake out of your cakes more quickly. That also tends to make them dry. In the reduced air pressure of high altitudes, your leavening ingredients will act more powerfully. That means your cakes will tend to rise too quickly, either developing a coarse texture or rising and then falling. Sometimes they'll even spill out of your pans, making a mess in the oven.
The Cake Mix Conundrum
Cookbooks and the Internet bristle with advice for cooks and bakers at high altitude, and the adjustments needed to find success are well established. Unfortunately, many of them assume you're making your cake from scratch and that you're in control of the ingredients you use. For example, cutting back on the amount of baking powder in your cake isn't really an option with a mix. However, most cake mix manufacturers provide some usable advice on the label.
Mixing Your Cake
You might not be in control of the amount of baking powder in your cake, but you can certainly add moisture. Try increasing the amount of liquid in your cake mix by two to four tablespoons per box. A bit of acidity will help counter your cake's tendency to rise too aggressively, so try using 1/4 cup of buttermilk in place of the water or regular milk called for by your mix. Reducing the amount of fat in your cake is another standard adjustment for altitude, and it's one that's within your control. For example, if your cake mix calls for 1 cup of oil, try cutting back to 3/4 cup.
Baking Your Cake
Cakes are more prone to sticking at high altitudes, so either grease and flour your pans or cut parchment paper to fit. Remember that your cake will rise more quickly and might overflow the pans, so fill them only half full instead of the usual two-thirds. Baking your cakes at a higher temperature can also help them set before they collapse and fall. Try turning up the temperature by 25 degrees Fahrenheit. For most cake mixes, that means baking at 375 degrees instead of 350.
References
On Food and Cooking: The Science and Lore of the Kitchen; Harold McGee
Writer Bio
Fred Decker is a trained chef and prolific freelance writer. In previous careers, he sold insurance and mutual funds, and was a longtime retailer. He was educated at Memorial University of Newfoundland and the Northern Alberta Institute of Technology. His articles have appeared on numerous home and garden sites including GoneOutdoors, TheNest and eHow.
Photo Credits
Jupiterimages/Comstock/Getty Images