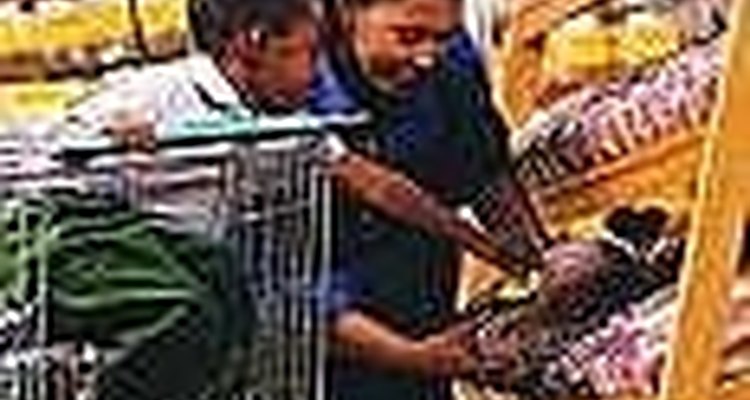 www.ers.usda.gov
Figuring out how to fill your grocery bag each week is a challenge if you are low income or otherwise experience a sudden or temporary financial hardship. The government can subsidize your food and grocery costs through the Supplemental Nutrition Assistance Program, or SNAP. Most states provide the application for food and grocery assistance online. However, if your state does not, you can only pre-screen for SNAP online and will have to apply via a printed application form. The SNAP application culminates in an interview with a SNAP worker, where you must provide certain documentation.
Use the USDA Website
The U.S. Department of Agriculture, or USDA, funds SNAP food and grocery assistance, and individual states administer it. Find the homepage for the SNAP program on the USDA's website, entitled "How Do I Apply for SNAP?" All states, except Alaska, Hawaii, Georgia and Wyoming, offer the SNAP application on their websites, although this may change. The USDA webpage includes a link for each state that provides the online application. Click on your state's link to view a brief page that displays your state's web address for the SNAP application. If your state isn't listed, use the USDA's SNAP office locator link, which leads to an interactive map to help identify your nearest office. You must call or visit the office to obtain a printed application form.
SNAP Pre-Screening Tool
Regardless of whether your state offers the SNAP application online, you can pre-screen for the food and grocery assistance program using the USDA's online tool. You will need to know the following financial details to use the pre-screening tool:
Earnings

Rent or mortgage

Utility bills

Child support payment you receive or make

Day care expenses

Medical bills (if you are 60 or older, or disabled)
Supplemental Security Income, or SSI

Social security or VA benefits

The tool can help you decide whether you should apply for SNAP and can estimate how much financial assistance you will get for food and groceries if you qualify. However, it is not an application, and ultimately only your local SNAP office can tell you for sure whether you qualify and for how much.
SNAP Application
You may have to register and create an account on your state's SNAP website to complete an online application. Your state may have a different name for the food and grocery assistance program, which may make it tricky to identify on the website. For example, in California, SNAP is called "CalFresh." The program in many parts of the country is also commonly referred to as "food stamps." Fill out the online application as much as possible and to the best of your ability. The application should ask generally the same questions used for the USDA's pre-screening tool. Submit the application and schedule an appointment with a SNAP worker to complete the application with an interview and document review.
Resources
Tips
Online application center for free food and grocery
Stimulus Plan
Writer Bio
Karina C. Hernandez is a real estate agent in San Diego since 2004. She has a background in mortgage finance and cosmetics and has written home & garden, housing and beauty articles for multiple internet channels over the past 10 years. She has a B.A. in English from UCLA.
Photo Credits