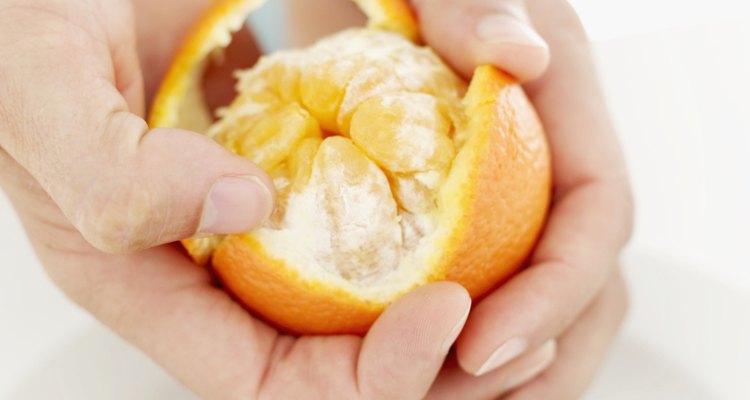 Stockbyte/Stockbyte/Getty Images
Tangerines are sweet packages of deliciousness, bursting with unsurpassed tang and flavor. The flesh of these fruits is enjoyed in abundance during winter and early spring, and tangerine peel is just as edible. Citrus peels have been used in Chinese medicine for centuries to relieve digestive issues, and more recent studies suggest other health benefits. Next time you're munching on a tangerine slice, save the peel to enjoy with your next dish.
Candy It
Candied citrus peel is a sweet and delicious way to consume large amounts of leftover tangerine peel. With a sharp knife, cut away extra pith if it's thick -- you want some on there for texture, so don't worry about getting all of it. Cut or tear the peels to the desired size, and blanch them in fresh boiling water once or twice, rinsing and changing water between blanchings. Bring to a boil equal amounts of fresh water and sugar, and then add the peels. Simmer for about 45 minutes, until soft, and remove with a slotted spoon. Once cool, toss in more granulated sugar and enjoy. The added perk -- save the sugar syrup you boiled them in for a citrusy addition to tea or waffles.
Zest It
Zest the tangerine peel with a microplane, zester, grater or sharp paring knife. Zesting is best done when the peel is still intact on the tangerine, because this makes it easier to handle and grate. Zesting consists of taking off the very thin, colored top layer of the tangerine, leaving behind the white pith. tangerine zest can be used in a variety of ways -- mix approximately one part zest with eight parts salt to make tangerine salt to sprinkle on soups and salads, mix a couple of tablespoons with brown sugar and spices to create a rub for meat, or dry it and save it on your spice rack to sprinkle on dishes as you wish.
Infuse With It
Tangerine-infused olive oil has an array of mind-blowing uses. Drizzle some over chocolate or vanilla ice cream and you'll never go back. Use it in place of plain olive oil in a salad dressing or marinade, or use it to saute your veggies. Tangerine's diverse flavor is amazing in both sweet and savory dishes. The peels can be used to infuse vinegar instead for dressings and marinades. To infuse, simply heat the oil or vinegar and slowly simmer with tangerine zest for 20 to 30 minutes. Let the vinegar cool, strain out the peel, and pour the infusion into containers. Vinegar can be stored at room temperature, but infused oil should be stored in the fridge to prevent rancidity.
Blend It
Drink that tangerine peel in a smoothie. While it may seem strange, the easiest way to eat tangerine peels is to just to throw them into the blender with the rest of the fruit. The citrus oil makes the entire smoothie quite citrusy but not unpleasant. All parts of the tangerine are edible, so don't worry about picking out seeds. The whole fruit can similarly be blended with olive oil, vinegar, herbs and mustard or another emulsifier to make a citrus salad dressing.
References
Resources
Writer Bio
Kimberly Blough is a food junkie residing in San Diego who began writing professionally in 2013. She obtained her Bachelor of Arts in geography from San Diego State University in 2003 and has taught culinary classes in various capacities since 2005. She teaches cheesemaking workshops and lives on a small hobby farm where she turns the food they grow into delectable dishes.
Photo Credits
Stockbyte/Stockbyte/Getty Images