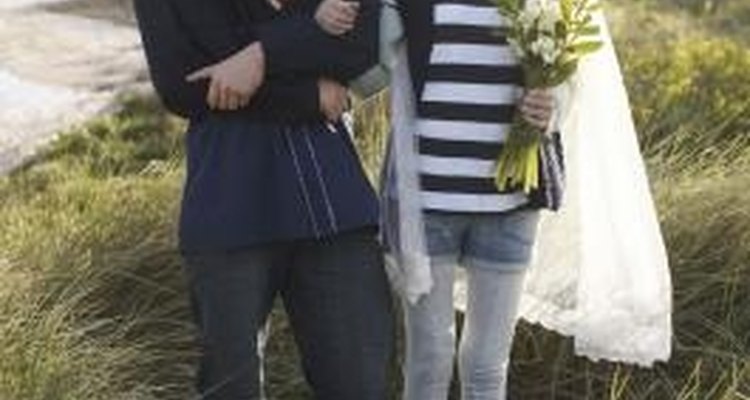 Bec Parsons/Digital Vision/Getty Images
The age at which couples generally marry has risen gradually through the years, particularly in countries such as the U.S.; the median age for marriage in the 1950s was only 19 for example, as noted by the New York Times website. Nowadays teenage marriages are less common, and a teen engagement is often full of drawbacks.
Neglected Opportunities
A married life offers many delights, but also comes with its share of restrictions. Couples must devote their lives to each other and compromise on many issues. These compromises mean that the personal dreams and goals of each individual in the marriage are often neglected so that the marriage can succeed. For teenagers, this can mean missing out on some of the major opportunities afforded to young people, from travel to higher education. In some extreme cases, teenagers might have to drop out of their education early to meet the demands of married life.
Immaturity Causes Problems
Teenagers are hardly grown up yet and this means that their behavior and attitudes are sometimes juvenile in nature. This immaturity can cause both partners to make decisions which in hindsight are rash or silly. Immaturity can also get in the way of the marriage, as the couple begins to irritate each other with their attitudes; for example, one partner may not see that it is his duty to work an equal amount to bring money into the marriage. As immature tendencies surface, the couple may grow tired of each other much faster than a fully mature couple would.
Teen Pregnancy
The result of a teen marriage is often a pregnancy before the couple is out of their teenage years. A pregnancy at this stage in a teen's life is not necessarily a bad thing, but often it can cause pressures and complications which young people are ill-prepared to deal with. Additionally, a teen pregnancy has associated risks, such as the child being born with a lower-than-average weight or otherwise underdeveloped, as pointed out by the India Parenting website.
Young People Change
The teenage years are a period of formation for young people, in which individuals learn who they are and what they want. Since teens who get married during this period are unlikely to have fully established what they want from their lives and are likely to still be developing as people, it's possible that shortly after they have married, a teen couple will discover they are less right for each other than they had thought.
Forget Seriousness of Marriage
Teens are especially prone to acting on impulse and making decisions they later regret. Some teenagers might view marriage as a means to satisfy a desire and not an institution that demands commitment and respect. As a result, a teen couple might get engaged without really thinking through the implications of what they're entering into.
References
Writer Bio
Simon Fuller has been a freelance writer since 2008. His work has appeared in "Record Collector," "OPEN" and the online publication, brand-e. Fuller has a Bachelor of Arts in English literature from the University of Reading and a postgraduate diploma from the London School of Journalism.
Photo Credits
Bec Parsons/Digital Vision/Getty Images