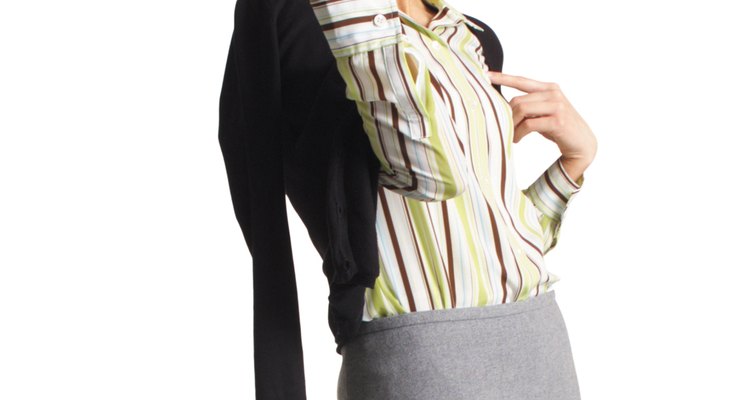 Photodisc/Photodisc/Getty Images
If you've ever dealt with someone who cannot see her own faults, you know how frustrating it is. It's like asking someone to wipe a smudge of lipstick off her cheek when there's no mirror around. And that's assuming that the person is willing to work on the problems related to her faults, which is not assured or even probable. Carefully weighing your words, controlling your emotions and empathizing with such an individual can go a long way towards fostering better communication.
Step 1
Cultivate compassion for the person. Someone who is unable to recognize that he has behaviors that are problematic for other people -- as we all do -- has a great deal of work to do in order to be emotionally healthy. In a March 2013 "Psychology Today" article, professor and behaviorist Raj Raghunathan advises remembering that people with such a negative outlook must deal with their own behavior all of the time, whereas you must only cope with it sometimes. Remembering that the person who cannot accept responsibility has a difficult life because of this shortcoming can help you to cultivate the compassion you need to keep your temper.
Step 2
Avoid putting the person on the defensive. When you talk to your husband about your concern that he will irreparably damage the plumbing should he attempt repairs on his own -- as history has shown -- choose your words wisely. If he refuses to acknowledge that pipe-fitting is not his strong suit, saying, "You destroy everything you touch," is not going to help matters. Instead, say, "You've worked hard this week, why don't we splurge on a plumber?"
Step 3
Step aside. When a person who won't admit to having faults makes a poor decision as a result of not taking her failings into account, don't get swept up in the drama. If your friend loses yet another job because she refuses to see that she should not be given special treatment because of her propensity to sleep late, let her suffer the consequences without feeling obliged to nod and agree when she says, "All bosses are jerks."
Step 4
Approach the person with concern, not judgement. If you see a pattern of behavior that the person is unaware of, gently point it out. For example, you could say, "Jack, I'm sorry your girlfriend left you. I'm concerned, though, because each time a relationship ends, the girl says it is because she feels uncomfortable with your drinking. Do you think this might be something you should look at?" Confront him privately, and stick to the facts, says psychologist Clay Tucker-Ladd in an April 2008 article on PsychCentral.com.
Step 5
Take what action you can, then let it go. If your co-worker refuses to believe that she is driving customers away with her negative attitude, try to approach her first or talk to your supervisor. Once you've done whatever it is you can do, the problem is no longer yours.
Step 6
Protect your own happiness, says Raghunathan. While you won't be able to force a person to acknowledge her faults, you can nevertheless keep on being happy. If your friend refuses to admit she has a chronic overspending habit, avoid being in situations where you must be helpless bystander as she drives her family into bankruptcy. Enjoy her company in situations where the faults are not an issue, such as joining her for a cup of coffee instead of meeting at the mall.
References
Writer Bio
Elise Wile has been a writer since 2003. Holding a master's degree in curriculum and Instruction, she has written training materials for three school districts. Her expertise includes mentoring, serving at-risk students and corporate training.
Photo Credits
Photodisc/Photodisc/Getty Images