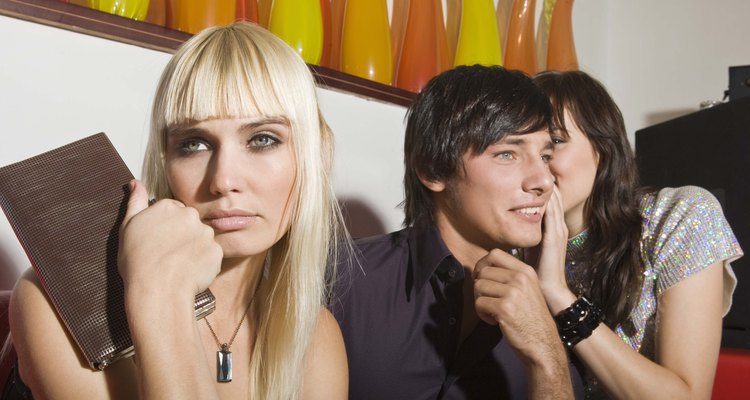 Jupiterimages/Goodshoot/Getty Images
After a breakup, it can be truly difficult to move forward in your life without your significant other. It can be even more distressing to find out that your ex has moved on and is dating someone else. To you, possibly at your most vulnerable, this indicates that your ex has dealt with the relationship's end better than you have. You may even show signs of depression over the news. But there are steps you can take to cope with your ex dating someone else.
Step 1
Spend time with your friends and family. After a breakup, you may want to isolate yourself, particularly if you find out your ex is dating. Despite the urge to want to stay home, watch television and beat yourself up over the breakup, seek support from friends and family. They can encourage you to see the relationship in a more balanced way, both the good and the bad. Their perspective also can help reduce your feelings of jealousy.
Step 2
Work on focusing your attention to yourself. Seeing your ex with someone else can feel like a physical blow to your self-esteem. Redirecting your attention back to you can also help distract you from whatever your ex is doing. Spending time renewing your energy by doing things you enjoy and taking care of yourself physically can help to increase your feelings of self-worth. Over time, you may not even notice your ex when your paths just happen to cross.
Step 3
Go out with friends rather than alone. Even if venturing outside of the home doesn't seem to be an option at the moment, eventually you'll recover. Security, in this case, is a matter of numbers. The more allies who accompany you, the stronger you'll feel. Keep in mind that seeing your ex with someone else isn't fair game to "get back" at him by overtly flirting. Instead, surround yourself with friends who love you, inside and outside of any relationship.
Step 4
Write down your thoughts and feelings in a journal. Psychologist Gary W. Lewandowski Jr., who focuses on the role of self in romantic relationships, writes that research has shown that a significant therapeutic benefit occurs when individuals write, focusing on the positive. Both men and women benefited, and the positive slant may contribute to continued improvement in feelings of self-efficacy and self-esteem. If you've seen your ex with someone else or heard it through the grapevine, writing can allow you to express yourself and can help you deal with your emotions.
References
Writer Bio
Maura Banar has been a professional writer since 2001 and is a psychotherapist. Her work has appeared in "Imagination, Cognition and Personality" and "Dreaming: The Journal of the International Association for the Study of Dreams." Banar received her Bachelor of Arts in psychology from Buffalo State College and her Master of Arts in mental health counseling from Medaille College.
Photo Credits
Jupiterimages/Goodshoot/Getty Images