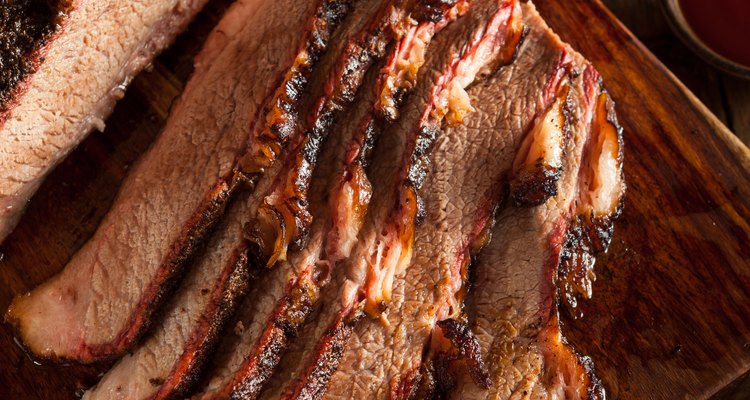 bhofack2/iStock/GettyImages
Whether Texas- or Jewish-Style, a Brisket Recipe You Don't Want to Pass Over
Both Jewish- and Texas-style brisket respond best to the same cooking method: slow, low-temperature cooking, ideally in a Dutch oven. If you don't have a Dutch oven, use the next best thing – aluminum foil, also known as the duct tape of cooking. Similar to a Dutch oven, aluminum foil helps retain moisture up close and personal to the brisket, right where you want it when employing a moist-heat cooking method with the goal of tenderization. Whether you go for Texas-style brisket with a piquant spice rub or Jewish-style brisket with tomatoes and onions, you'll use the same cooking method.
Total time: 4 hours, 15 minutes | Prep time: 15 minutes | Serves: 8 to 10
4 pounds beef brisket
Olive oil, as needed

3/4 cup spice rub or kosher salt and freshly ground black pepper, to taste
1 1/2 cups to 2 cups chicken or beef stock

Heat the oven to 350F. Brush a light layer of olive oil on the brisket, and season it to taste. If you're making Texas-style, rub your preferred spice mix into the brisket; if you're making Jewish-style, season the brisket to taste with kosher salt and freshly ground black pepper.

Wrap the brisket tightly in two layers of heavy-duty aluminum foil. You don't have to worry about wrapping it too tight; the steam from the stock will make its way in.

Set the brisket in a deep roasting pan. Add enough stock to reach about 1/2 inch up the sides of the pan. (If making Jewish-style brisket, add 1 can of chopped tomatoes, 3 minced garlic cloves and 3 roughly chopped yellow onions along with the stock).
Bake the brisket until tender, about 4 hours. Open the aluminum foil to expose the top and sides of the brisket, and turn the oven broiler on.

Set the roasting pan at the top level of the oven. Broil the brisket until caramelized to a rich golden brown, about 5 to 7 minutes. Take the brisket out of the oven and re-cover it loosely in the aluminum foil.

Let the brisket rest for 15 to 20 minutes. Slice the brisket across the grain in thin slices.

References
Tips
Beef brisket can be prepared a day in advance and reheated. Doing so allows the flavors to develop further. Simply reheat the brisket in a 350 F oven for 25 to 30 minutes.
Brown the brisket on the stove top for three minutes on each side before baking to add color to the outside of the brisket.
Alternatively, you can also bake brisket in a dish covered in foil.
Pair brisket with oven-roasted potatoes or steamed vegetables, add it to soups and casseroles, or use it to make sandwiches.
Warnings
Tougher cuts of meat like brisket should be thoroughly cooked until internal temperatures reach a range between 180 to 205 degrees Fahrenheit.
Writer Bio
A.J. Andrews' work has appeared in Food and Wine, Fricote and "BBC Good Food." He lives in Europe where he bakes with wild yeast, milks goats for cheese and prepares for the Court of Master Sommeliers level II exam. Andrews received formal training at Le Cordon Bleu.